Exclusive Interview with Cope2: Part 2
Juxtapoz // Thursday, 13 May 2010
1
Katie Zuppann: Graffiti is obviously a pretty dangerous medium. What has been the most trouble you've ever gotten into?
Cope2: In 1999 my video documentary called Cope2 Kings Destroy was released by Abstract Video. It was pretty much one of the best graffiti documentaries since Henry Chalfant and Tony Silver's Style Wars. My video was awesome, as it captured me doing subway cars and huge graffiti productions on walls in the Bronx that are gone today with artists like Tkid, Seen, West, Jon One. You have rap artists like KRS One, Fat Joe, Rakim, Flavor Flav in it talking about me and graffiti art; also members of my graffiti crew called Kings Destroy so it pretty much took the graffiti world by storm.
It also [caught the attention of] the NYPD graffiti task force that later arrested me for it 'cause I'm painting live subway cars in the video illegally. I almost did some prison time for it but I hired a good lawyer at the time and ended up getting heavy fines, community service, and 1-year probation which was pretty good after doing all the damage I'd done in the video.
But 1 year later the graffiti task force known as The Vandal Squad came and raided my apartment and took my computer and loads of photos that were part of my collection. It took me 3 years to get mos everything back. What a nightmare.
That was really the most trouble I've gotten into for graffiti writing. It changed my direction, considering I have a family with several children. I had to really make a change for the better. Which today involves trying to stay legal in everything I do and put my artwork into more positive and creative things for the world to appreciate and enjoy.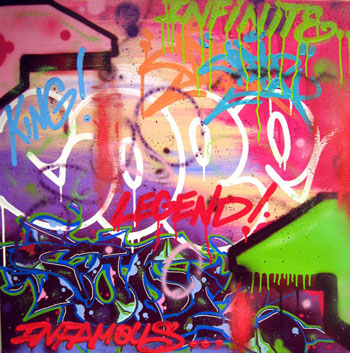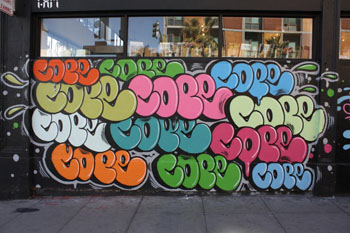 Why do you love art?
It's always been in my life since traveling on the New York subways as a kid with my mother. From watching all the great graffiti legends' huge pieces roll by to watching Bob Ross as a kid on television, I loved the colors, the energy behind it, the different things people create. It's so amazing.
I travel the world now 'cause of graffiti art and the things you see from this art form are just really out of this world. I love putting a wall together and having like 10 different graffiti artists from all cultures combine their art and energy and colors and ideas together. The results are just amazing.
I went to Sao Paulo, Brazil and saw the huge walls done by Os Gemeos. The installation and show they had in the museum in Sao Paulo is really inspiring. One time I went to the Brooklyn Museum, and seeing the show that Takashi Murakami put on there was really out of this world.
From seeing the hard worldwide work that Keith Haring put into his artwork, Seen's studio in Paris, all these great artists and many more inspire me each and every day. It makes me love art more. I thank God everyday for blessing me with this talent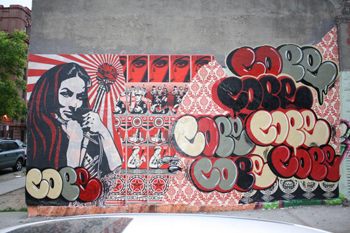 Tell us about one of your favorite experiences out creating a piece.
Wow, I have tons. It's been so many years that I've been doing this but one of the best was recently with Shepard Fairey. He's really the best at what he does. I've been following him for many years. We both were part of Mark Ecko's 'Getting Up Contents Under Pressure graffiti game done by Atari. We both acted as legends in the game, so that was an awesome project.
I pretty much tried to stay in contact with Shepard Fairey after and I had an idea to combine both our art styles together for a limited addition print, which he was excited about. The man is a great artist and is an amazing person. His personality is one of the best I've seen and dealt with in this art world. He sent me a signed copy of one of his books and told me I was an inspiration to him, so that was really cool coming from him. Recently he came to New York for his big show at Deitch Gallery and we hooked up to do our own little project up in the Bronx on a nice wall. [See photos of this project here.]
We had a great time creating this wall together with both our art. It later will be a limited addition print so that people out there can collect a piece of what we created.
I've also done several pieces on walls with Os Gemeos, the amazing twins from Sao Paulo. Their art is beyond this world. I love it. I've done a wall in Paris with Fafi; awesome artist a great friend.
Also artists like Seen, Tilt, Sharp, Jon One that I've painted with through the years. I'm looking forward to doing projects with great artists in the near future.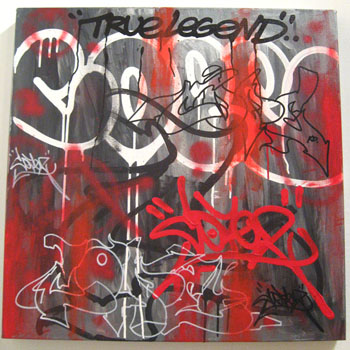 Any advice to aspiring artists hoping to perfect their craft?
I guess just be real and do what's best for you. Do what makes you happy as an artist.
If you're sad and having problems or going through bad things in life, try to relax and put all that bad or good energy into your artwork and I'm sure in the end you'll be happy what you've created. When times are hard in life, one thing I love about being an artist that it's always there to comfort you. At its best, being an artist will always be there for you to express yourself to the fullest.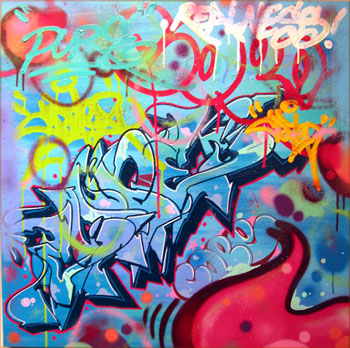 Any plans or shows you have lined up that we should know about?
I have a lot of trips to Europe this year. I do a lot of graffiti events like live painting and workshops for kids. I judge graffiti contests and I do in-stores at graffiti shops.
I'm working on some shows in Paris, Copenhagen, Turkey, New York, and other countries. Also, some toys and many other products are in the works as we speak.
I have an online gallery on my website called cope2.net where anyone around the world can see or purchase a piece of my artwork. I'm just staying busy and doing what I love to do: art.
If you didn't catch Part 1 of this interview, peep it now here.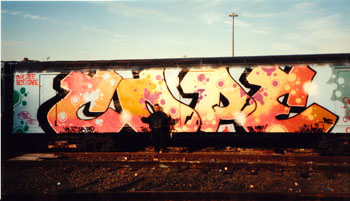 Photos by Indie184