Exclusive Interview with COOP, Part 2
Juxtapoz // Tuesday, 26 May 2009
1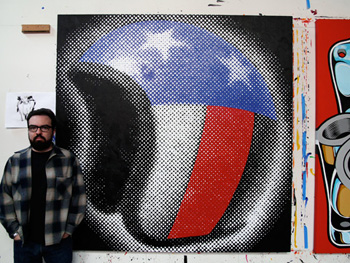 Cigar smoking devils. Sickle toting skulls. Tonsil hockey playing vixens. These are the inhabitants of COOP's (Juxtapoz #100) hellishly sexy reality.

In anticipation of his highly anticipated show opening this Friday at Corey Helford Gallery, we engaged Coop in a chat about his upcoming show, why he paints what he paints, and even snagged some exclusive preview images of paintings from his show!

Read Part 2 of our two-part interview with COOP below . . .
Elise Hennigan: Your newer works are on a larger scale than previous works. What do you enjoy about the upgrade in canvas size, what are its challenges?

COOP: I've been working big since 2004, when I painted "Parts With Appeal" a 78-foot-long visual history of drag racing. Deciding on the 6-foot by 6-foot panels gave me a cool compositional tool, in that I have a modular framework to make a painting as big as the composition requires, in either the vertical or horizontal plane.

I love working at this scale. I can still keep the slick lines that I'm known for, but at such a large scale, my brushwork can be very loose and painterly, with lots of impasto. The paintings work well at a distance, when the composition and linework stand out, or up close, where the image dissolve into an abstraction of color, light and texture.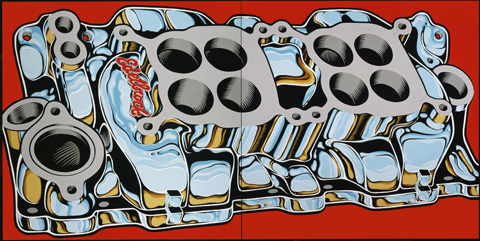 Your new works have layers that augment your iconic characters, how did you come to use this technique? What do you think it does for the piece?

It came from working for many years in silkscreening, which taught me how to build up an image with successive layers of color. At one point, I thought about actually building large screens and screening images onto canvas like Warhol or Rauschenberg, but I decided it would be more interesting to try to get the same effects painting it by hand.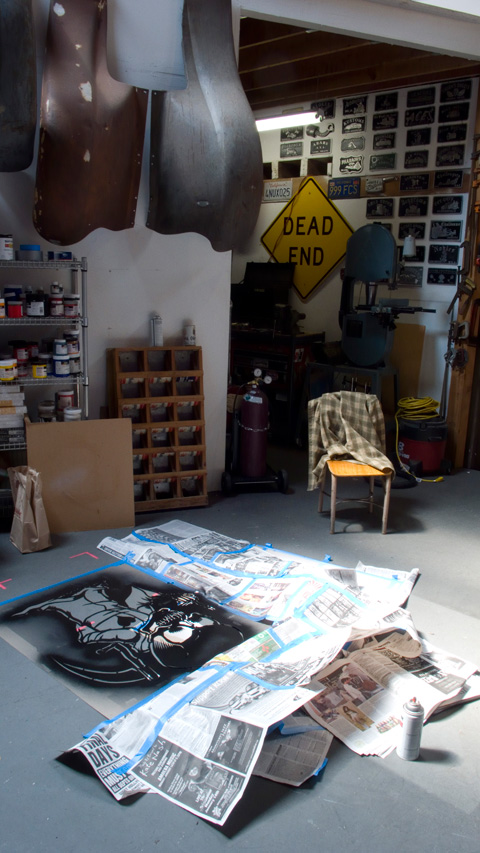 What are some other techniques that you used for the show?

I'm really getting into stencils and spraypaint. I never did anything like it before, and it's really fun. I love cutting stencils by hand, and the instant art that it makes is really cool. Whenever people come to my studio, I can whip out a little painting for them, right on the spot. I also like how the spraypainted stencil stuff looks on top of the traditional painting. It's like a decal or rubber stamp, and it adds another layer of texture to the surface. I'll be exploring this a lot more in the future.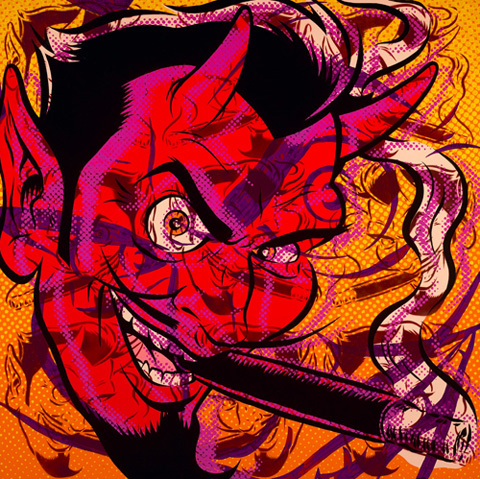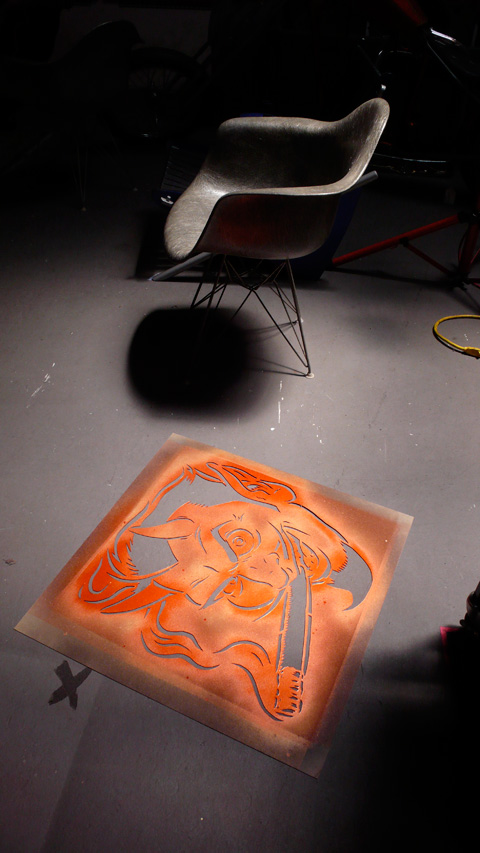 Your most famous images are that of mischievous-looking devils and devil women, why devils?

I don't really know. I always loved the way that the devil used to be a staple of advertising and packaging art in the past, I guess that and my Bible Belt upbringing have a lot to do with it. I think the devil in my work represents freedom and hedonism, and a reaction against fundamentalist thought, both in religion AND in art.
A lot of your work features Bettie Page/50s style soft porn, often with provocative women subjects. Has there ever been a feminist backlash to this?

No. In fact, women love my work, and love to tell me that they do.
Your next show supposedly focuses on portraits rather than full body shots, is this the end of the infamous, barely-clothed, female body in your works?

No, I just decided to focus on faces after the first couple of paintings for this show turned out that way. There will be plenty of nudes in the future.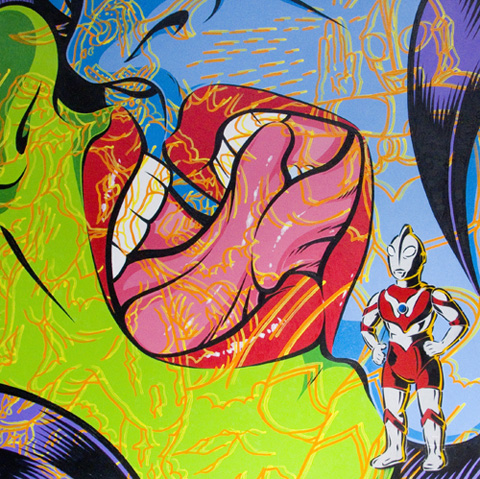 Didn't catch Part 1 of this interview with Coop? Read it now here.
Make sure to head out to see Coop's newest works this Friday, May 29th at Corey Helford Gallery. Details at www.coreyhelfordgallery.com
For more information about the artist Coop, please visit www.coopstuff.com