Exclusive Interview with COOP, Part 1
Juxtapoz // Monday, 25 May 2009
1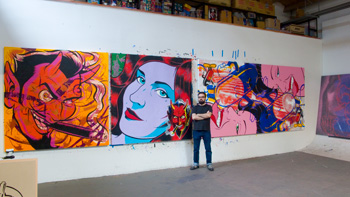 Cigar smoking devils. Sickle toting skulls. Tonsil hockey playing vixens. These are the inhabitants of COOP's (Juxtapoz #100) hellishly sexy reality.

Having secured his place as one of the world's most visionary lowbrow artists, COOP is back on the gallery scene and ready to debut his latest works at Corey Helford Gallery this Friday. We caught up with this leading artist and asked him some questions about his upcoming show, why he paints what he paints, and even snagged some exclusive preview images of paintings from his show!

Read Part 1 of our two-part interview with COOP below . . .
Elise Hennigan: You were born in Bixby, Oklahoma and appear to have bee-lined it out to LA straight after you graduated high school to create a body of work loaded with fetishism, erotica, and desire. Did you paint provocative women and cigar-smoking devils in Oklahoma or did LA coax that out of you?

COOP: Just the desire to get the heck out of Oklahoma. I had a friend in California who offered me a place to stay for a while, and I jumped at the chance. I knew that I would never be able to make a career as an artist without living in NYC or LA. Remember, this was 1988 or so, well before the internet decentralized the art world.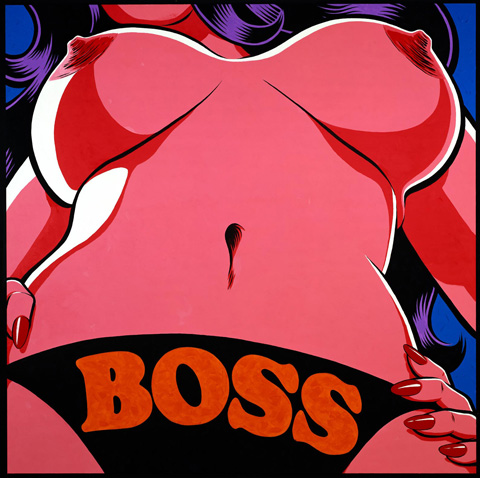 You are a prolific poster artist and you have also done a considerable amount of commercial work, including stuff for Altoids, MTV, and Escalade. How do you balance creating your personal works and commercial works?

Actually, I have become much more picky about that, turning down more commercial work in the past few years, and concentrating on my fine art instead. I reached a point a few years ago where I realized my painting would never get to the place I wanted to go unless I eliminated the distraction and stress of commercial work. I still take jobs that interest me, or offer me stupid money, but for the most part, I am working exclusively for myself now. I've taken a bit of a hit financially, but I'm must less stressed out now.
You have quite the merchandising empire, selling everything from books to jewelry, stickers, condoms, lamps, air-fresheners, not to mention your original artwork. How do you manage all of this?

Honestly, my wife does all that stuff. I provide artwork and collaborate on ideas and direction, but she does all the hard work.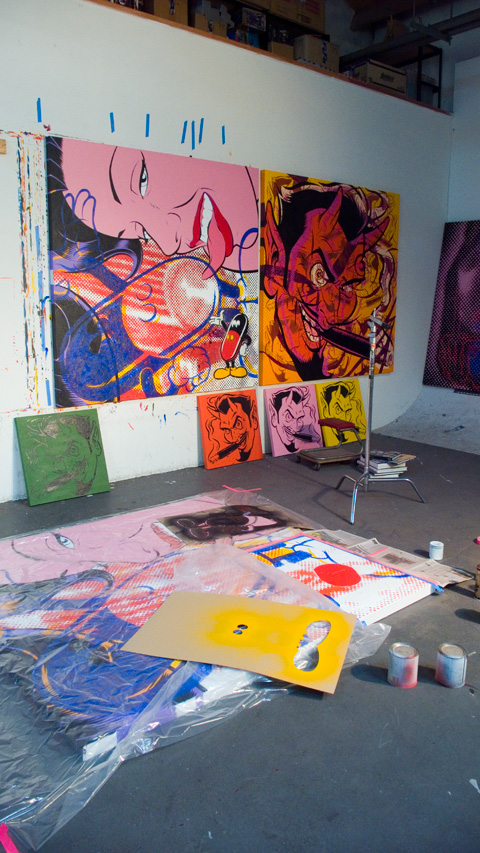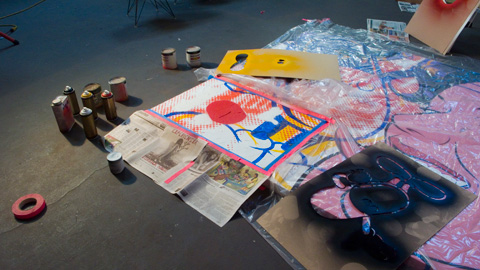 On to your upcoming show . . .
You haven't had a show for a few years. What have you been up to?

I was very unhappy with my former gallery, and left shortly after my 2006 show. I had enough private commission and regular collectors to wait until I found a gallery that "got" me. I hooked up with Corey Helford last year, and I'm tremendously happy with them in every way. They love the work they sell, and are really committed to putting the artist first. I hope this will be the first of many successful shows together.

What can we expect from your new show?

A progression in what I have been doing since 2004, large-scale Pop Art. I'm a lot more interested in texture and color these days, as a result the paintings are becoming less purely figurative and representational, and moving towards abstraction. I'm also incorporating techniques and materials that I haven't used previously, like stencils and spray paint, along with hand-painted replication of mechanical printing techniques like halftones.
Stay tuned for Part 2 of our interview with COOP tomorrow and remember to head out to the opening of his new show at Corey Helford Gallery, opening this Friday, May 29, 2009.

For more information about the artist Coop, please visit www.coopstuff.com