Exclusive Interview with Chloe Early on Birdsong and Machine Sounds
Juxtapoz // Thursday, 21 Oct 2010
1
You have a rare hold on both tighter figurative as well as looser abstract styles. Did you go to art school to perfect your technique? How do the two methods buttress one another?
I did go to art school, but I studied design there, however I always drew and painted a lot myself anyway. I suppose my style as you describe it sort of evolved over the years.
I would rather be an abstract painter, but I find the figurative element more grounding, it's a very old fashioned kind of satisfaction; painting something representationally.
I'm interested in showing a breath of painterly language in my work. So I love Mark Rothko and the abstract expressionists as well as Renaissance painting, Romanticism, Impressionism etc. I love the history of painting and want to show that.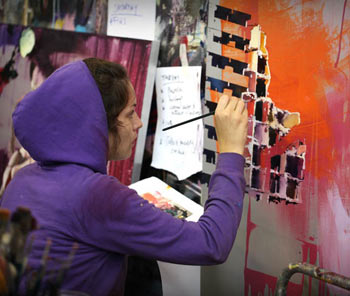 When we visited your studio in London this May [studio visit here], you had already begun to develop work for Birdsong and Machine Sounds opening in October. How long does it take you to complete a work? Where do you gain inspiration?
For one painting it probably takes 3 weeks, but I don't usually work on just one, I prefer working on a group so I can move around and stay fresh. I try not to think about inspiration, I just keep working and ideas come and go.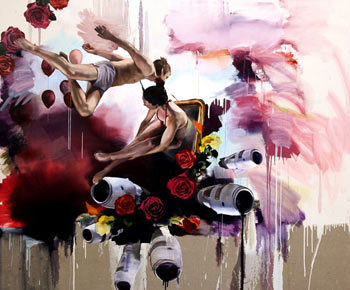 Why the title Birdsong and Machine Sounds?
I wanted something that encompassed both a feeling of beauty and something darker. Here where I live the only time you hear birdsong is very, very early in the morning on the weekend when everyone is asleep. The rest of the time it's pretty much machine sounds all day long.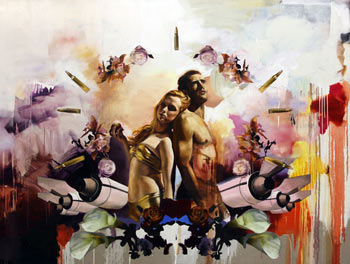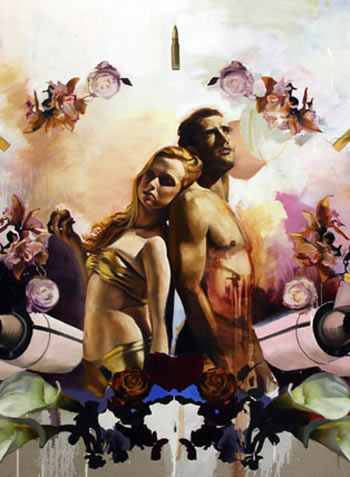 You have referenced the classic Adam and Eve story as a central point of reference in this series. What draws you to Adam and Eve and what message does the story hold which you explore here in a modern context?
I read Milton's Paradise Lost in February, and it gave me the idea to do a series based on that idea. I used it as a very loose springboard, and it's less about the story of creation for me than an interesting fictional way of examining humanities potential for good and bad in relation to our landscape and environment. Also the language Milton used is very descriptive and ornate, and I wanted to try and translate some of that in a visual way.
Of your 11 new oil pieces, you state, "In my paintings I am aiming to create a new kind of gravity where I can examine the potential for good and bad, light and dark." Can you elaborate on this?
A lot of the imagery I use is about flight or flying objects, planes, rockets, figures suspended, I like the way in a painting you can suspend something fundamental like gravity and just change it to suit your needs as an artist within the laws of the painting.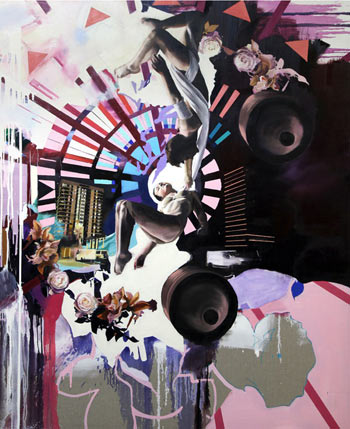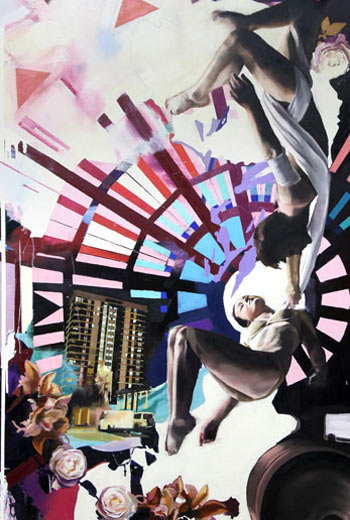 You consistently use both man and woman in a single painting, often engaged in a sort of freefall. What is it about couples and descent that intrigues you? How do the machines and other industrial objects in the background play into the scene?
For this show, I decided to use couples as a reference to the Adam and Eve thing. I wouldn't say it's descent or ascent but more suspended, I wanted to have them suspended amidst both very beautiful and ornate objects and a darker element, hence the engines which are also a nod to gravity.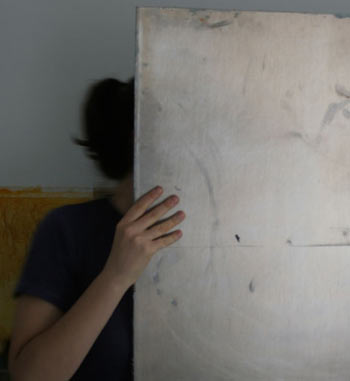 What do you hope viewers of your new work take away after experiencing Birdsong and Machine Sounds?
I don't know; I just hope some people like them.
Birdsong and Machine Sounds
Opening Reception Saturday, October 23, 2010 from 7 10pm
On View October 23 - November 10, 2010
Corey Helford Gallery
More on Chloe Early at chloeearly.com
See our studio visit with Chloe over here.