Exclusive Interview with Brandi Milne
Juxtapoz // Friday, 27 Mar 2009
1
Brandi Milne, a self-taught artist from Anaheim California is no stranger to candy, clowns and funk music.
Using fashion, music and childhood memories as her main pool of influence, she tends to favor beauty and aestheticism in her work as opposed to commenting on social issues or propaganda.
While she has worked with large companies such as Hurley and Gelaskins, she recently worked on a tee-shirt line that will debut in Wet Seal stores soon. Milne puts on her show Run, Rabbit, Run, at Thinkspace Gallery in Los Angeles on April 10th, 2009. A show that is sure to be adorned with smiling popsicles, drizzling strawberries and fuzzy little bunnies, this show will be nothing less than a "sweet" time.
Interview by Elizabeth Culley.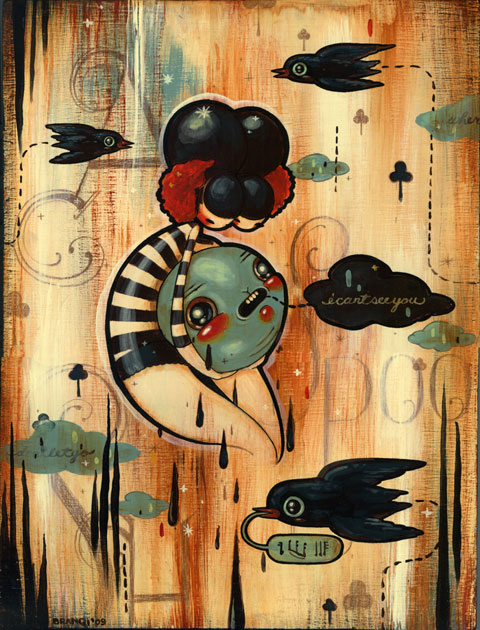 Many have asked you about how not having formal art training has either helped or hindered your career, but can you comment on how you developed your style alone without it?
My style developed over several years. I used to draw these stick figures in high school – the girl had a bow on her head and a skirt, and the boy wore pants. I would say that was the start of the girls I draw and paint today. I drew pictures for my family and friends throughout the years, and I would hoard any image (like cards, books or flyers) I could find that I liked, so that kinda fleshed out my style. You know, you just do what you do naturally because you love it, and somehow between your ability and influences, it happens.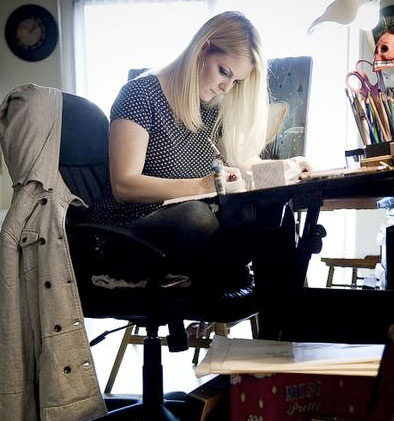 When working with wood panels as a canvas, do you manipulate the wood? If so, does it help create your pieces? Does the wood sometimes dictate the piece?
No manipulating the wood. It just gets sanded 'til it's smooth and then I go to work on it. I don't get hung up on imperfections or even dings on the surface. To me it's like real-life.
Being from Anaheim and growing up in the 1970s I can't help but think that Disney influenced you? Did you go the park a lot?
Growing up, my family didn't go to Disneyland all that often, but when we would, it was the bee's knees. I have very distinct memories of those few trips, I was terrified to go on just about everything in fantasy land—Snow White, Frog and Toad, Peter Pan, Pinocchio—and forget the Matterhorn! I had no idea those horrifying moments would play such a huge part in my future.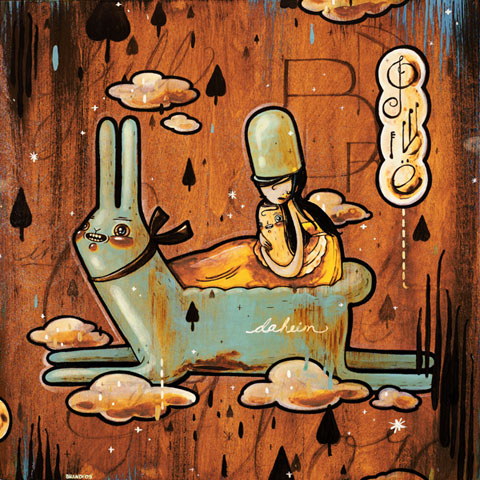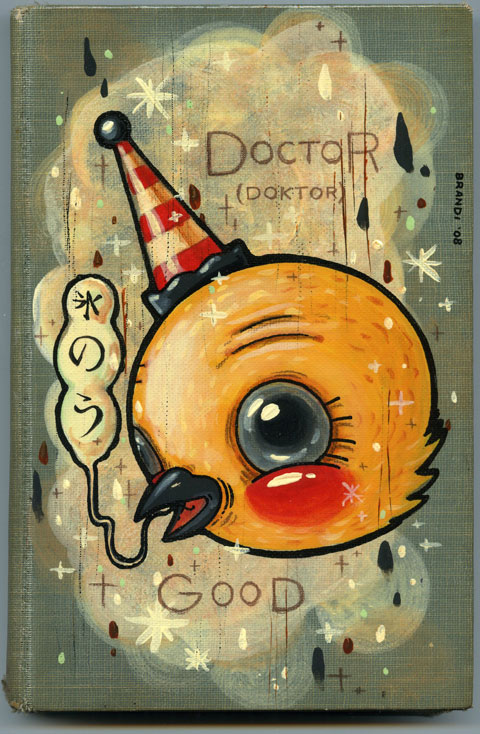 What are some of your other influences?
Halloween decorations were very influential growing up. The Sleestaks from the Land Of The Lost, Bert and Ernie, and probably all the 1960s – 1980s Fisher Price toys a kid could ever dream of ruled my world back then.
Women seem to be the focus of your pieces… what happened to the men?
Men aren't completely disqualified from my work - if I need a male component, I might add him in bunny form, a boy strawberry or a popsicle! It's not a feminist approach at all; I just draw females a lot better than I draw males.
Why are the women faceless?
The women have faces. They have eyes and cheeks but no mouth. My work isn't about what the girl is saying; it's more about what she's feeling. With such a simplified face, I feel I'm able to connect the viewer with my piece on an emotional level. It has such a bleak silence. If I were to add a mouth to my girls, it would be closed.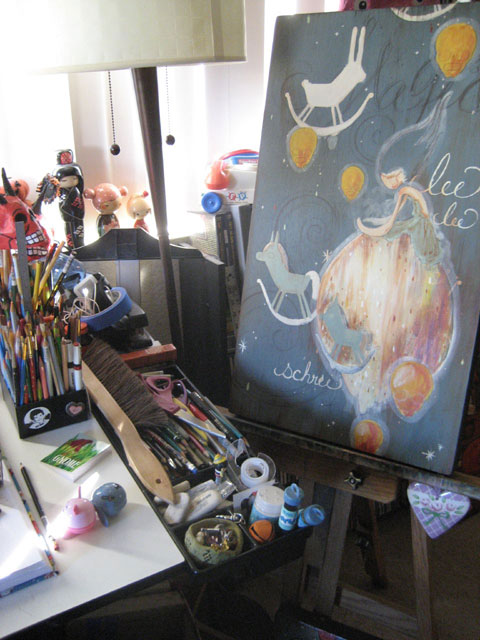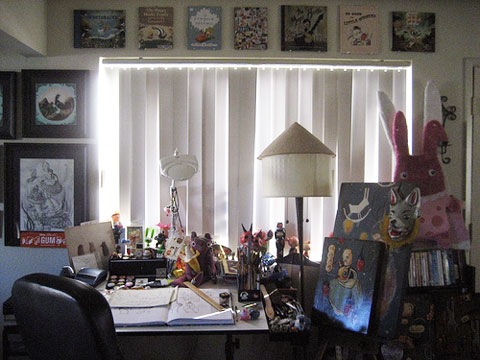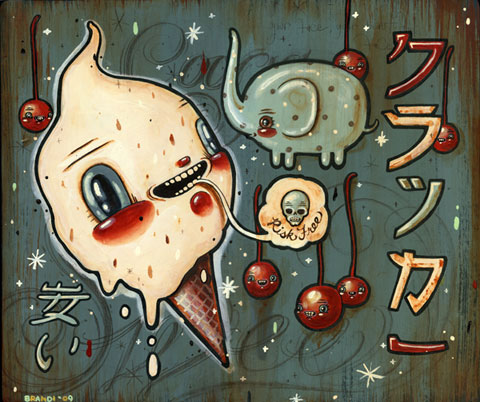 You seem to keep a few things consistent other than women, like rabbits, peppermint candies, flowers, and ice cream. Are these directly from your childhood, or are you just a candy fiend like me?
Yes, candy and ice cream are often found in my work as of late. I love sugar and I think it brings an innocent, yet fun element to my work. I was obsessed with candy growing up, so it's also nostalgic for me.
I notice in the "Sugar Friends" series you use text. Is that German?
Yes, that's German.
You mention you loved funk music growing up. What do you listen to when create your pieces now?
I listen to a lot of classic rock: Led Zeppelin, Pink Floyd, Elton John, America, Steve Miller Band, Creedance. It takes me back to a better time in my mind.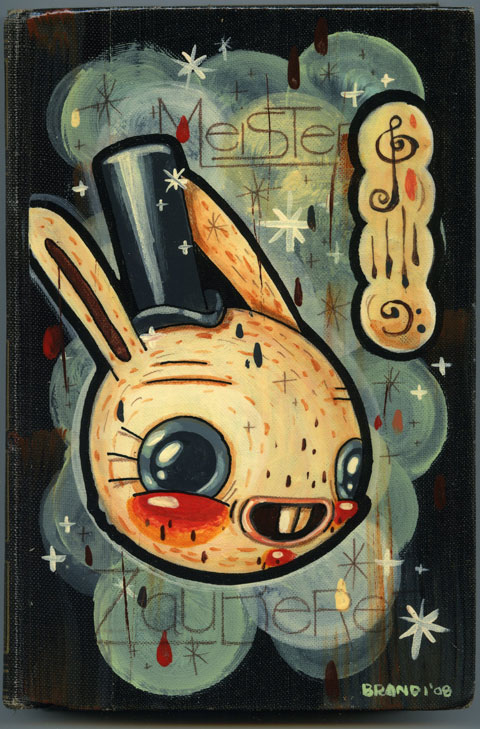 On the topic of music, you recently collaborated with rock musician and tabloid staple Pete Wentz of "Fall Out Boy," how did that partnership come about?
I'm really good friends with Jensen Karp of Gallery 1988, and he's really good friends with Pete. Jensen is the art director for Pete's clothing line Clandestine Industries and thought my style would be a great addition to the line. Mr. Wentz and I agree!
How was the collaboration experience? Can we expect more commercial work like this from you in the future?
It was totally cool. I've worked with companies like Hurley, 686, 5150, Acme Filmworks & CVS before, so I'm always up for projects like that. We ended up doing two tees together for Clandestine and another more adventurous collaboration is in the works as we speak!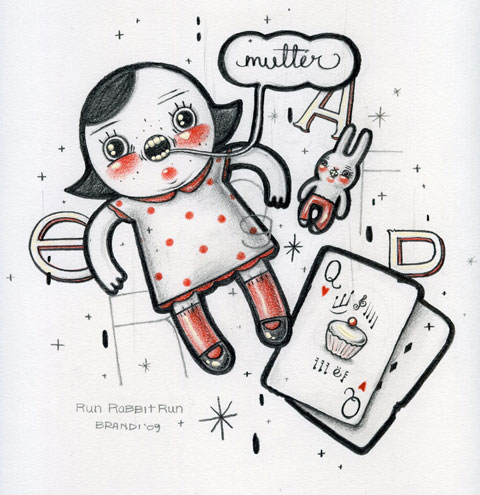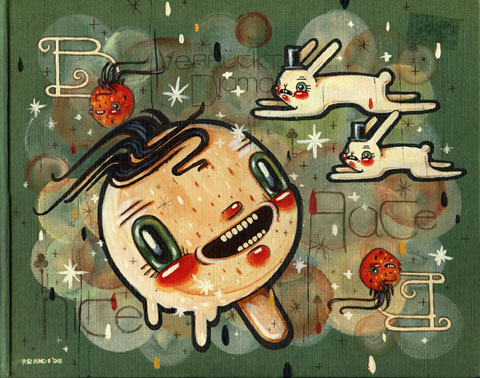 What was the inspiration for the book "So Good For Little Bunnies"?
The book was loosely based on my life at that time. I had just gotten married and had moved out of my parents' home for the first time. I was feeling very excited for new things, but was also a little frightened and home sick for sure. That was basically mirrored in the book for [protagonist] Be Be. She wants to go to the Carnivale, but she's a little scared and unsure along the way.
What can we expect at your upcoming show at Thinkspace?
You can expect your socks to be knocked off! This new work is definitely my strongest to date, I feel I've put my entire heart and soul into it and I hope people enjoy it.
What's next?
I have my next solo show coming up early 2010 with the Corey Helford Gallery. I'm also working on another book and some other big projects and collaborations. I'm definitely keeping busy!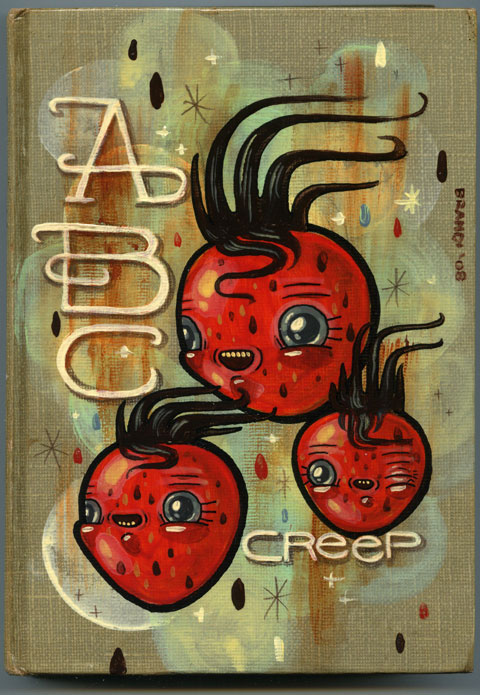 More on Brandi Milne at www.brandimilne.com
Brandi Milne portrait photos by Hurley.com
Artwork images courtesy of the artist.