Exclusive Interview with Andy Kehoe, Part 1
Juxtapoz // Wednesday, 13 May 2009
1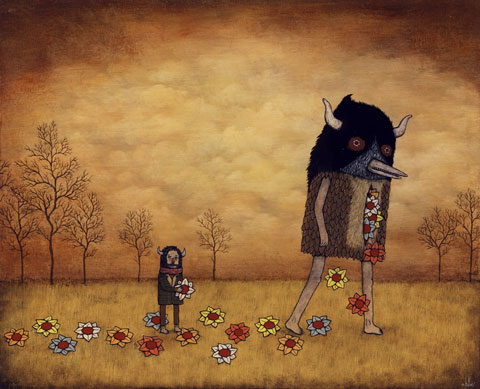 Our favorite Portland-based quirky artist Andy Kehoe (Juxtapoz #75) took some time out of his busy schedule to chat with us about his upcoming show, Living in Twilight, which opens this Saturday, on May 16th 2009 at Jonathan LeVine Gallery.

Prepare to be entertained and enlightened as to why Andy is like "a crazy cat lady", and what it is like to spend an entire day painting leaves.
Check out Part 1 of the full interview with Andy by Elise Hennigan below: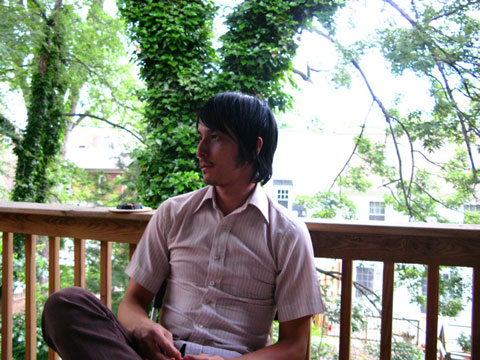 Describe yourself in 10 words or less.
The most sane person in America.
How does your personality help you create art?
I feel pretty alienated in this world most of the time, but feel a certain ease when I'm working . . . that helps with self-motivation.
Who is your all time favorite artist?
As for old masters, I would go with Bosch and Pieter Bruegel the Elder. I like the Elder part. I might steal that.
There's a good amount of artists today that I feel a good connection to like Evan B Harris, Kathleen Lolley, Dan May, Jason Limon, my brother Ben, Femke Hiemstra, to name a few. I like artists with strange tales to tell and huge imaginations.
Oh yeah. Another artist I really dig, Souther Salazar, is also having a solo at Jonathan LeVine Gallery the night I'm showing there so that's exciting.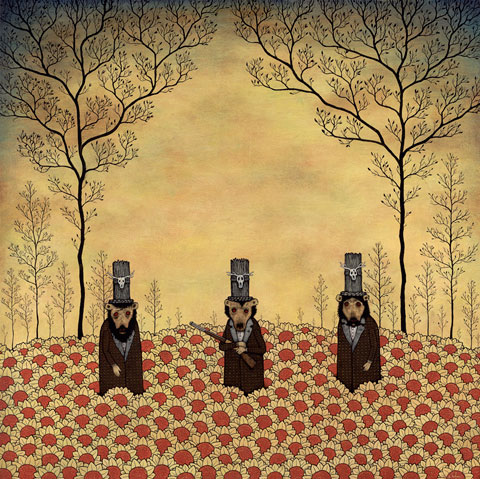 What music are you listening to these days?

Listening to some old stuff like Mississippi John Hurt and Charlie Patton. I listened the hell out of the newest Animal Collective and I'm looking forward to the new Grizzly Bear coming out soon. Besides that, sometimes I break into people's houses at night and listen to them sleep. Luckily, no one has woken up... yet.
When you aren't creating art, what are you doing?
Actually, my time away from work is pretty boring. It usually consists of drinking a beer and watching a movie or playing video games. On a nice day I might wander around neighborhood and chirp at squirrels. I think I'm close to being a crazy cat lady... except that I'm really allergic to cats and I'm all man.
Look out for Part 2 of our interview with Andy Kehoe tomorrow.
Living In Twilight opens Saturday, May 16th, 2009 and will remain on view through June 13th, 2009.
More info at www.jonathanlevinegallery.com
More on Andy Kehoe at www.andykehoe.net
Make sure to read our (hilarious) 20 Questions with Andy Kehoe here.