Exclusive Interview with Andres Guerrero Plus Sneak Peek at New Art
Juxtapoz // Sunday, 31 Jan 2010
1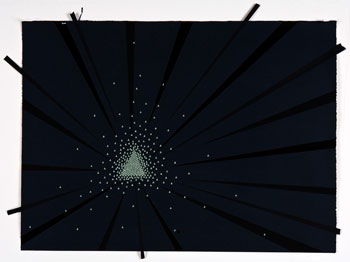 As if the past year hasn't been crazy enough, San Francisco based Andres Guerrero left as founder of White Walls gallery, worked on a ton of new art for an upcoming solo at Subliminal Projects gallery (opening February 6th, 2010) and will be opening the fresh doors of his very own spot, Guerrero Gallery. Hey, no one ever called Andreas lazy. Get the scoop on it all in an exclusive interview as well as a peek at the work he'll be showing off next week.
Katie Zuppann: You describe your skull imagery as "symbolic self-portrait representation...a descriptive means of living through death." What exactly do you mean by this? How does the concept of death inform your view on life?
Andres Guerrero: In recent years a new deep appreciation and respect for the understanding of family, life and death, has emerged with a great deal of conviction. Spending a great deal of time dealing with family loss, reconnections and experiencing a true commitment to relationships, a necessity to reflect these feelings through precise execution has been a true process of expression. Using the physical embodiment of layers within the works reference the temporary and impermanent cycle of life, symbolizing our ever-changing existence.
For this show, I'm focusing on the imagery of skulls, in a way of self-portrait representation. Using this symbolic imagery as a descriptive means of living through death; a passage of rights. A new stage of my life is beginning and it feels important for me to move away from my past, good and bad.
This work embodies that move forward. Within each piece an emotional struggle of confusion and comfort are expressed with different mediums and the physical aspect of layers. Personal reflection drives the overall concept of the works for this show and really re-emphasized the importance of family and friends in my life.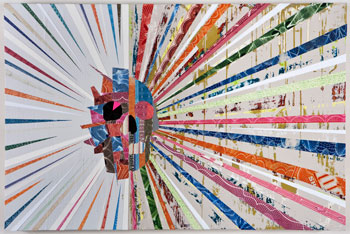 How has your artwork been therapeutic in coping with the loss of loved ones in recent years?
Well, I'm not a big communicator and with that come tendencies of bottling up my emotions and/or feelings. Losing family and experiencing loss at that level is really difficult and I don't really feel that it is a fair deal for me to put than on others, so I turn to my works and try to express my emotions there.
My works help me to address my feelings at a manageable level and help me to put things into perspective.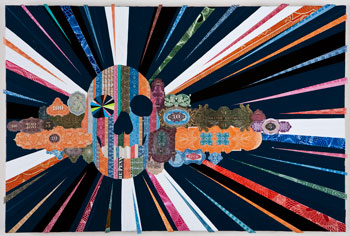 Do you feel at peace having completed this series of work?
For the time being, yes. But there's always more work to be done.
Your upcoming show at Los Angeles' Subliminal Projects gallery is with your longtime friend, Albert Reyes. What was the process like getting this show together? How does your work contrast his and how is it complimentary?
Yeah, I love that guy! I'm really excited to be part of this show with him. The show with the both of us kinda just came about. Dan Flores at Subliminal mentioned Albert and I together and 15 minutes later that was it. BOOM, Albert and Andres mash up.
The funny thing is that Albert and I had kicked around the idea of showing together for a long time and now, here we are.
Albert's work is everything that mine is not. It's naturally expressive, full of raw emotion; that's something that I really envy in him. I can't wait to see our work together!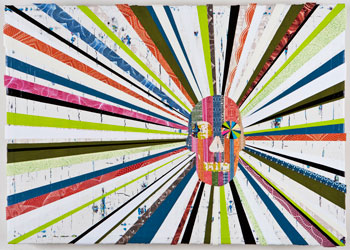 You have gone though a lot of adjustments in the public art eye in the past few years. You left the successful White Walls gallery you founded (with Justin managing the Shooting Gallery next door). Why did you leave White Walls after putting so much time and dedication into the project, which seemed a successful endeavor? Was it difficult for you?
Of course it was very difficult, especially since it was so successful. White Walls was such a great adventure and a lot of life lessons came from that experience. I have to give Justin credit for introducing me to the game. Leaving White Walls was something that I really felt was necessary to do. You have to spread your wings every once in a while.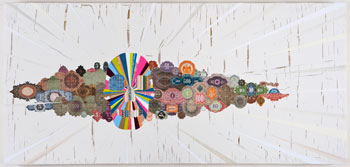 Your new independent project, Guerrero Gallery is slated to open its doors in San Francisco's Mission district this Spring. What are your goals with this new space? Who have you lined up to exhibit? What will you be doing differently with Guerrero Gallery that you didn't do with White Walls? What can we look forward to with this fresh space?
Moving forward with the new space has been really exciting and a challenge at the same time. The plan is to expand off of what has been developed at White Walls, and there will be some familiar faces from there. But, at the same time much work has been made to expand the program and on elevating the representation of the work that will be shown.
Things to look forward to... the artists and the tricks they have up there sleeves; it's gonna be about them. The space will allow for many great shows that will have a greater impact on the art world and the viewers a like.
Artists such as, Alex Lukas, Matt Leines, Greg Lamarche, Aaron Noble, Richard Colman, AJ Fosik, Mike Giant, Brett Cook, and many others will be presenting their works at the new space.
It will definitely be something to get excited about; I know I am.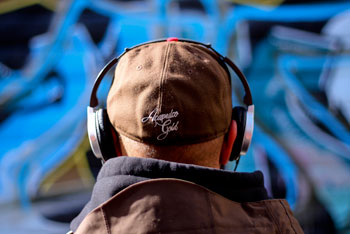 Any parting word of wisdom?
Nope. But everyone should watch this video:
Andres' show with Albert Reyes will open February 6th at Subliminal Projects in Los Angeles. More info on that HERE.
More on Andres Guerreo at www.andresguerrero.com