Exclusive Interview: Blek le Rat on Homelessness
Juxtapoz // Monday, 04 Jan 2010
1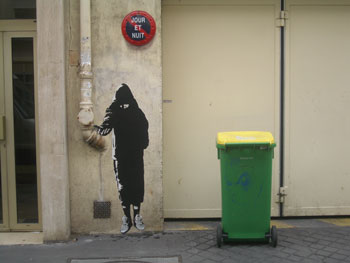 Helen Soteriou: When and why did you decide to create your homeless images?
Blek le Rat: I wanted to work on the issue of homeless people for a long time, but my first image with a beggar was made in 2006.  The problem of homeless people is a global problem – everywhere in the world we find this big issue in every city. We count one hundred thousand homeless in France and I think it's the same thing in every country.
This issue could be easily resolved if the people in power really wanted to do something about it. I don't think it would cost a lot of money for our society to change this irrefutable fact. In making my images of the homeless and beggars, I would like to involve people and the media about this problem. It is my way to make a gesture of charity toward people who need it.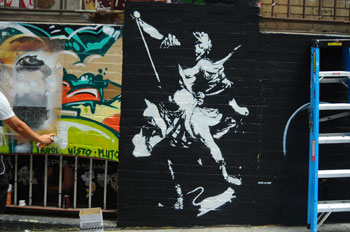 Are they based on anyone or on images you have seen?
Some images, like the beggar, is the image of my son Alex. I used my own image for the man in the sleeping bag. I have one new image of an old man who is actually a beggar. I took the face of Victor Hugo to make this beggar. Victor Hugo is a French writer of the 19th Century who wrote a book about poverty called "Les Miserables" or "the miserable ones."

Where have you stenciled them and do you continue to use them today?
I have stenciled them in many different cities around the world - Paris, London, New York, Mexico City.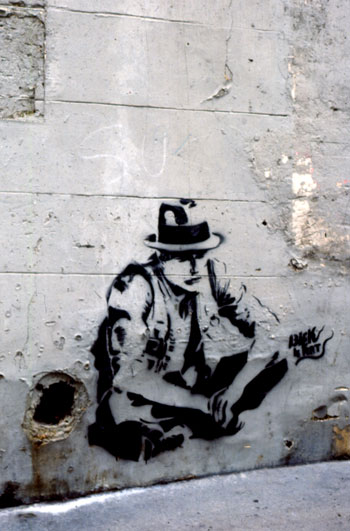 What has been the response?
The British magazine "The Big Issue" contacted me and I made a donation of twenty paintings to the magazine. Those paintings were sold for £25,000 and the money went to the homeless people in 2006.

Did you ever expect them to be so influential?
Yes, I did.

Anything else you would like to say?
I think that street art has a huge impact on people and it would be interesting if artists work more on social issues.

More on Blek le Rat can be found online at http://bleklerat.free.fr