Exclusive Interview: Becca
Juxtapoz // Saturday, 11 Jul 2009
1
This year Becca made an unprecedented decision in her career. Taking on the expansive walls of White Walls Gallery, she is back in the saddle with her largest solo show to date: True Colors. The gallery sat down with Becca to discover the real story behind her sabbatical and why she's back; read on to hear it from the woman herself.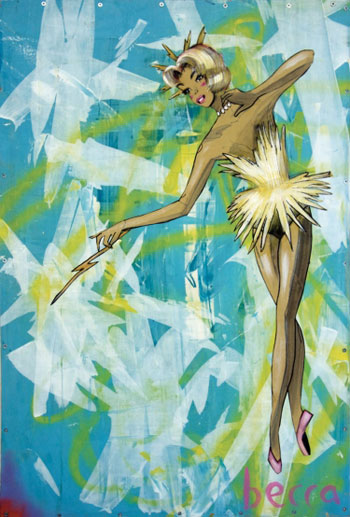 Sabbatical: I stopped painting for 2 years. I was thinking of new careers such as working in a nursing home or animal shelter- something where I could actually make a difference.

Change: I noticed recently that my ladies have thinner ankles and are more atomically correct. That means a lot to me.

Monkeys and Bunnies: I love animals- all animals- and any time I can paint them and show them off gives me great pleasure.

Street Art: Unfortunately I've gotten older, and so has me mum. She has no one but me to look after her. What am I supposed to do. Graffiti seems like a young persons game, which is great but I've moved on from the streets.

Ladies: I'm a sucker for a beautiful girl, lady, woman. What can I say except some of them make me melt.

"True Colors" Exhibition: It's huge! Forty paintings is new for me, quite a challenge. I'm looking forward to every minute of it.
Read the rest of Becca's answers on the White Walls website and make sure to check out her show opening tonight, July 11th at 7pm at White Walls Gallery in San Francisco.