Exclusive: Addressing Issues - An Interview with Valerie D'Orazio
Juxtapoz // Monday, 25 Jan 2010
1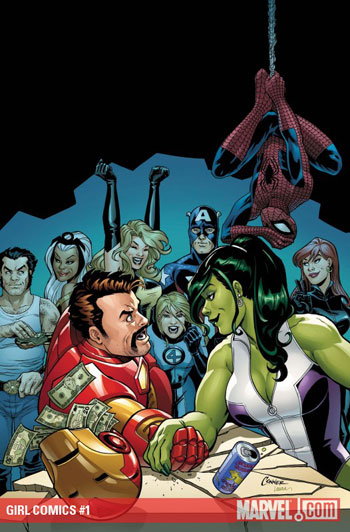 "Addressing Issues: An Interview with Valerie D'Orazio"
by Jake Zucker www.jakezucker.net

An insider since 1996, Valerie D'Orazio has an uneasy relationship with the comic book industry, lowlighted by her allegations of sexual harassment while working in DC Comics' editorial department.  Her relationship with the medium itself and its devotees is, to say the least, vibrant.  As proprietor of the much-read Occasional Superheroine blog, D'Orazio earned a reputation as a free-thinking comics and culture guru in the Web 2.0 world.  She spoke to me about her career path and her upcoming Marvel Comics projects, both of which are scheduled for release in March.

Jake Zucker: Where do you come from and what brought you to comics?
Valerie D'Orazio: I grew up in Brooklyn and went to Brooklyn College.  I've lived in Brooklyn my whole life.   

I think I read my first comic when I was four or five years old.  I started actively collecting them when I was around eleven, proactively going into the store and picking out my own books and deciding what writers and artists were my favorites.  When I entered college, I stopped reading comics.  My program was very academic and graduate school-bound and the professors looked down on comic books and encouraged me to think of higher things.

Right before I graduated, I was offered a job at Acclaim Comics and jumped at it.  I dropped all my graduate classes.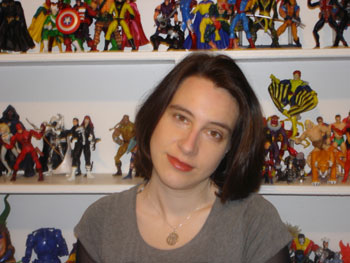 Comics are a distinct medium.  What about their mechanics and construction excites you?
The intersection between the words and the pictures makes the art form unique.  You can relate it to movies and other similar media, but it's not the same.  There's something different about the pacing and the way the story unfolds in a graphic, sequential art narrative that can't be replicated by any other medium.

When I was in college, I was doing a lot of prose writing, and when I wrote I noticed that I always pictured comic book panels in my head.  My natural instinct was to see the story in pictures like a comic book and translate that into words.

Could you set the record straight about your split from DC Comics?
I don't want to open old wounds.  There was much about working at DC that I enjoyed, like the family atmosphere, but there were problems with specific people and specific departments.  I heard things said that made me feel uncomfortable as a woman -- sexually harassing language -- and made me feel very aware of my gender.  Being a woman impacted nearly every facet of my job.  I think I put up with the sexist environment because I felt that reports of my job performance hung in the balance.

When I officially reported it, I was treated just like you might expect a whistle-blower to be treated, and the way people treated me changed radically and for the worse.  Coincidentally, at the time I was editing the Identity Crisis miniseries, which features a rape, and the thematic issues I was experiencing in my professional life mirrored the material.  Today, I can look at much of the DC work I edited with some pride and enjoyment, but I can't bear to read Identity Crisis.

Darwyn Cooke gave me a piece of his original art from the book I edited -- Catwoman: Selina's Big Score -- and it features the main character defending her prostitution.  It's just a living.  It's just making money. That kind of line.  Another character reminds her that there's something important about retaining one's basic human dignity.  I keep that piece by my desk and I read it every day.  It continues to inform and inspire me.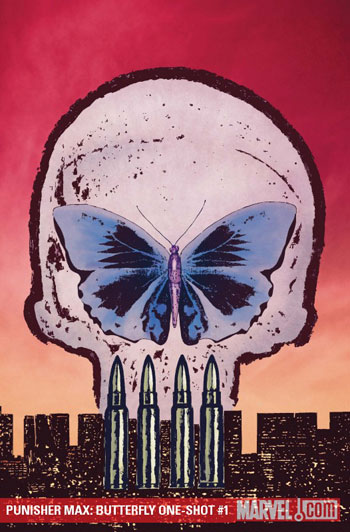 You've scripted two upcoming releases with Marvel Comics, which is DC's biggest competitor.  It would be easy to see your career path as a What-Goes-Around-Comes-Around parable.  Is this accurate?
That isn't how I tend to think of it.  I started at Acclaim Comics when I was much younger, and now that I've worked at DC and now do work for Marvel, I've come full circle.  The comics I loved as a child were Marvel Comics.  This is more of a journey than a payback.

Punisher MAX: Butterfly, my upcoming Marvel one-shot, is about a female hit-woman who writes a tell-all memoir, and how her insistence on writing the book dismantles her life.  I'm trying to paint a picture of a complex woman who isn't a martyr or a victim.  It features a lot of hard hitting and uncomfortable moments, but I'm not preaching.  I work in certain themes -- specifically about gender and sexuality -- organically through the story.  I'm trying to entertain and show different aspects of life that the reader might not have considered.  My goal is to make you think but not tell you how to think.

Your other story appears in the upcoming anthology series Girl Comics.  How would you characterize the environment for women trying to create mainstream comic books?
I can't say that gender has completely dropped off the face of the Earth as an issue for female comic creators, but there are a few of us now in the mainstream.  Think of Marjorie Liu, G. Willow Wilson, and Gail Simone.  Certainly, in the independent comics world, women are kicking ass, but the future has never been brighter for women in mainstream comics.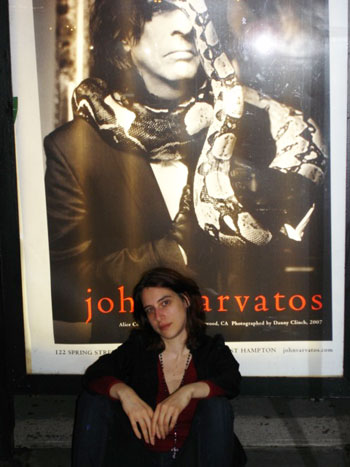 As a former editor and soon-to-be-published writer, do you have any words of wisdom about the relationship between the writer and the artist?
It's a relationship I'm still learning about myself.  As a writer, you have to write the script not so much for just the editor, but the artist.  Keep in mind how the artist will read the script and interpret it.  Write the script for the artist, if you can.  It's important for the two to have an organically collaborative relationship.  I wrote the Girl Comics short story with artist Nikki Cook in mind.  I didn't know who would be illustrating the Punisher story, but Laurence Campbell interpreted my script exactly as I pictured it and beyond.  Some of the images graphically mirror the narrative relationship between characters, in terms of position and silhouettes.

If you're an artist, do not be afraid to reach out to your writer if you're unsure of something.  When I was an editor, I worked on several books that would have benefited from more communication between the creators.  You should try to follow the script, but don't be a slave to it, either.  It's a collaborative medium, and the artist cannot help but interpret the story in his or her own unique way.  In my opinion.  I could be wrong.


Follow Valerie D'Orazio via her blog, occasionalsuperheroine.blogspot.com