ESPO's Love Letter Film Premiere
Juxtapoz // Friday, 29 Oct 2010
1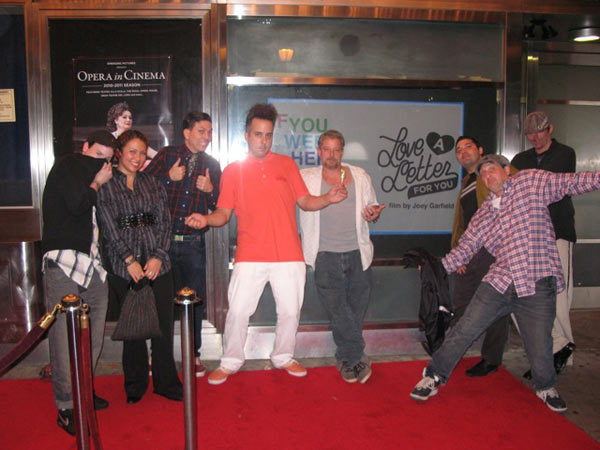 He is our contributing editor to the magazine, so seeing that Joey Garfield sent us this photo of him, Stephen "ESPO" Powers, "actors" in the film, and some random guy in the back, we felt obligated to show you. That's right, this past Tuesday in Philadelphia, Garfield world premiered his new film, A Love Letter For You.
Joey Garfield has contributed many articles over the years to the magazine, including pieces on WK Interact, Swoon, David Ellis, Gonz, DZINE, Dennis McNett, as well as the entire Barnstormers issue last December. So congrats to him on the film and documenting the project.
Wen Vo, of McJAWN, a Philly Art and Culture Magazine was on the scene and gave this report:
Last Tuesday was the world premiere of Love Letter. Director Joey Garfield and the Ghost Robot production company creates a film that mixes elements of documentary and narrative film to tell the story of the Love Letter mural project— a series of 50 rooftop murals from 45th to 63rd Streets along the Market Street corridor in West Philadelphia. Love Letter tells the story of a Philly graffiti writer, FIRE, who just got out of jail after being locked up for tagging and is on a creative-quest to win back his ex-girlfriend and his daughter. Starring Stephen Powers a.k.a. ESPO who plays himself and a positive figure in FIRE's life to channel his artistic talent through the A Love Letter for You.
After the premiere, Stephen Powers opened the floor for questions. I asked if he would consider adding to the project with a piece that would incorporate the word "Jawn." The answer was yes, McJAWN is going to hold him to it. Soon after, a representative of the Mural Arts program announced that the A Love Letter for You project will be expanding north of Philadelphia to the Kensington area. More ESPO, hell... yeah.
A Love Love Letter for You is a project by Stephen Powers with the City of Philadelphia Mural Arts Program, and is sponsored by the Pew Center for Arts & Heritage through the Philadelphia Exhibitions Initiative.