Eric Joyner Prepares to Open Donut Logic Next Week
Juxtapoz // Saturday, 07 Aug 2010
1
For his third solo exhibition at the gallery, Eric Joyner unveils a bold new twist to his decade-long odyssey of donuts and robots. Exploring new territories, Joyner's metal humanoids reveal the secret life of robots: they sport tattoos, balance careers and families, and expose their hidden desires.
Donut Logic will also debut the addition of cupcakes to Joyner's signature glazed landscapes.
"I think the robots in my paintings reflect how a lot of us act and feel", explains Joyner, and for Donut Logic his robots are more domestic than before, enjoying life's comforts and small pleasures in a post apocalyptic world, such as gardening and bicycling.
Twenty paintings make up Joyner's constellation of oil-on-panel works. And the exhibition will feature a rare portrait of a female robot from the classic science fiction film Metropolis, dressed as a geisha posing in front of a cherry blossom tree. "Though the scene is lush, Maria (robot) makes the scene a bit unsettling" Joyner adds.
Donut Logic opens to the public next Saturday, August 14 from 7 to 10pm, and the exhibition will be on view until September 1, 2010.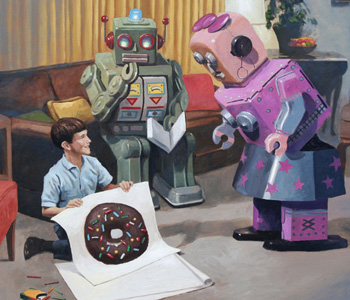 About Eric Joyner
Eric Joyner attended the Academy of Art and the University of San Francisco and went on to establish himself as a commercial artist, creating illustrations for Mattel Toys, Levi's, Microsoft and Showtime.
A member of San Francisco Society of Illustrators and New York Society of Illustrators, Joyner has been an instructor and speaker at San Francisco's Academy of Art University and California College of the Arts.
His work has been featured in San Jose Museum of Art's exhibition "Robots: Evolution of a Cultural Icon", and he has shown in numerous galleries and cultural institutions, including La Luz de Jesus, The Shooting Gallery, Trifecta Gallery, and the Museum of American Illustration. For additional information about the artist, please visit www.ericjoyner.com.
Eric Joyner
Donut Logic
Opening Reception Saturday, August 14, 2010 from 7?10pm
On View August 14 – September 1, 2010
Corey Helford Gallery
8522 Washington Boulevard
Culver City, CA 90232
T: 310-287-2340
Open Tuesday - Saturday, Noon to 6:00pm