Eric Joyner is not only sugarcoated: Interview on 'Donut Logic'
Juxtapoz // Tuesday, 10 Aug 2010
1
Your upcoming solo show, Donut Logic is set to open this Saturday, August 14 at Corey Helford Gallery. Utilizing your trademark cast of robots and donuts, this series is reputed to be different in that it will reveal the secret life of robots and expose their hidden desires. Can you comment on this?
Yes, I reveal a secret desire or two as well as some new robots, female robots, childhood memories, feelings of isolation, and other things that have been interesting and/or bugging me lately.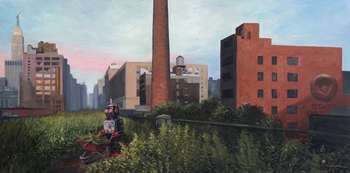 Why robots? Why donuts? Do you really like both entities, or do you utilize them as metaphors for something greater?
Yes, it's true...I know it's hard to believe, but I do like robots and donuts. People have their own idea of what they represent and I'm fine with that. It seems to me that all I'm really doing is interpreting what I see going on here on Earth, with a few exceptions. Sometimes I do use robots and donuts as metaphors, but mainly as suggestion.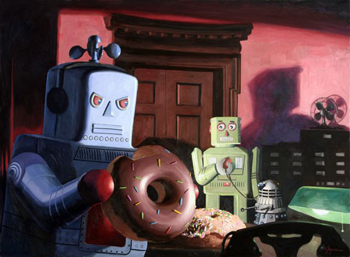 What artists do you admire or gain influence from?
I like the Brandywine artists from 100 years ago, especially N.C. Wyeth. Also the impressionists, F. Frazetta and J.Jones.
Can you describe your process briefly? How long does it take you to complete one painting, and eventually an entire series?
I draw with 4B pencils on wood panels that have been painted with gesso. The pencil is fixed and I then use oil paint for color. When the painting is done, I spray retouch varnish on top. Though I have traditional training in painting and drawing, I do use Photoshop to compose my ideas.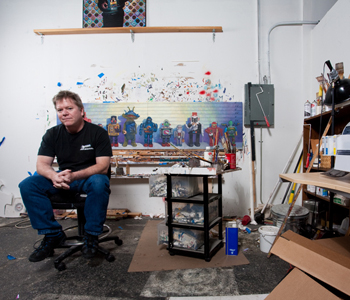 You've been an illustrator for decades and have seriously shown your work over the past decade. How have you seen your interests and styles change throughout this time? On the other side, how have you seen the world of art change during this period?
My interests have changed. I do it for myself whereas before I tried to paint things that other people wanted or I thought they wanted. I used to like serious subjects...now I think I'm much more interested in funny or interesting and weird things.
My painting style has gotten much better...I used to use the paint sparingly and be very timid. Now I just go for it with the confidence that everything will turn out just the way I want eventually, if I just keep painting.
In regards to seeing the art world change, yes but only painting styles...I didn't follow the fine art world much when I was an illustrator.
More on the artist at www.ericjoyner.com
Eric Joyner
Donut Logic
Opening Reception Saturday, August 14, 2010 from 7 10pm
On View August 14 – September 1, 2010
Corey Helford Gallery
8522 Washington Boulevard
Culver City, CA 90232
T: 310-287-2340
www.coreyhelfordgallery.com