Enjoy Some 'Fondue' on Chris Sheridan Tonight
Juxtapoz // Friday, 17 Sep 2010
1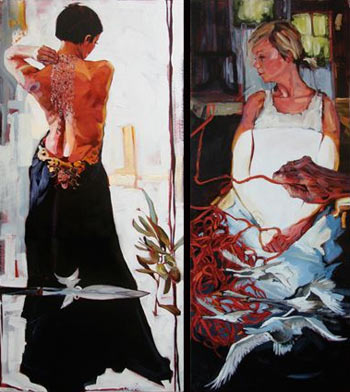 All you Seattle heads: come out tonight for the opening of figurative painter Chris Sheridan's exhibit Fondue at FIFTY24SEA. Aside from beautiful paintings, they'll also be serving up fondue too.
After taking his figurative oil-based style to shows in Finland and Monaco recently, this show marks his return to his home in the Pacific Northwest.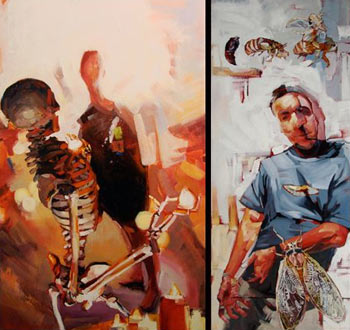 On the title, Fondue, the artist says, "Sometimes the best way to satisfy your desire for different things is to mix them all together. Much like fondue, the ingredients for this body of work are melted together from a variety of inspirations and presented for your eyes to devour.
"With Fondue, I've continued to explore a few of the different themes that have cropped up in my work over the years. The connection between oral and written histories and our daily lives, the complex relationship between Life and Death, the personification of Death as the "working man" with tasks and desires…and hidden deep within all of these or perhaps the string connecting them all, a desire to find the soul."
Opening Reception for Fondue tonight, September 17th at 6pm.
Beverages and Fondue will be provided.
More info on Chris Sheridan at www.sheridanart.com
Fondue
FIFTY24SEA
4730 University Way NE
Seattle, WA 98105