Ella Haberlach's Conceptual Clothing
Juxtapoz // Saturday, 26 Jun 2010
1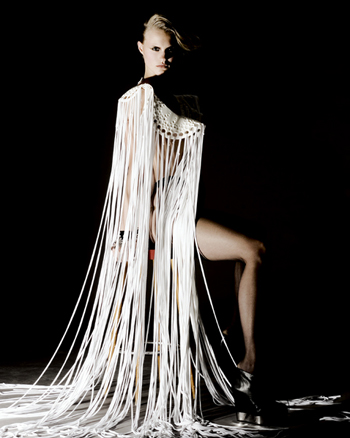 Ella Haberlach's clothing is an ethereal exploration into the space between fashion and art. Her designs offer more than items to cover one's skin; they are conceptual studies of the possibility of fabric and he human desire to depart from everyday conventions.
Her artisanal and paradoxical approach to design "combines the floaty perfection of ideal beauty with the embellishments of a horrific sludge."
Haberlach's collections serve as personal diaries that define the designer's vision. They are against conformity and without the cosmetic effect of fashion. In the designer's statement, she acknowledges, "the basic idea is based on dealing with identity changes and the war of two realities – the earthly and the imaginary,"
Born in Karaganda, Kazachstan in 1980, Ella Haberlach moved to Germany in 1988. She studied Fashion - and Textiles Design at Reutlingen University.
After completing a fashion design diploma in 2005 and graduating in 2007 with Master of Arts, she received several prizes in fashion contests and debuted with her line, seelenkleid, at Projekt Galerie Showrooms during Berlin Fashion Week in July 2007.