Ed Templeton Book: The Seconds Pass
Juxtapoz // Wednesday, 14 Apr 2010
1
After his fantastic 2008 release, Deformer, this new book explores Templeton's look at the American automobile.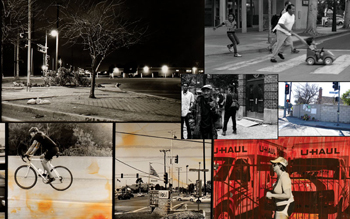 About the Book
"There is a scribble of asphalt and meandering ribbons of concrete tangled all over North America in a contiguous line of material that connects each of us to whomever else is also in contact. I sometimes marvel at this, walking from my front door and standing on the asphalt looking down at its grimy blackness, wishing I could rest my ear down on it and hear everything like the Indians in an old western film. The pavement I'm standing on is connected to other pavement, concrete, or steel to almost anywhere I can think of. Certainly everywhere you can drive to. Someone in Burnt Church, Tennessee is standing on gravel that is connected by touch to my street, just like someone is in Halifax, Nova Scotia. I can be in New York City in 3 days from my home in the suburban sprawl of Orange County, California without ever touching the earth.
"The Seconds Pass...
"...was the starting line of an old friend's poem. The line was the seconds pass / like hands thru glass. I always loved those lines. In my head I always replaced hands with eyes. It puts a name on those moments when you stare into space, lapsing into a daydream, and the world is just spinning by. Sometimes I step out of those moments, only a little, just enough to think in my head those words – the seconds pass. Like an inner tick-tock, taking note that everything is slipping away, especially time.'
Grab The Seconds Pass by Ed Templeton here.
154 pages
Hardcover
4 color offset printing
11" x 7.75" (landscape)
First edition 1000
$52