Image Gallery
Ed Ruscha: On the Road at HAMMER Museum Los Angeles
Juxtapoz // Wednesday, 06 Jul 2011
1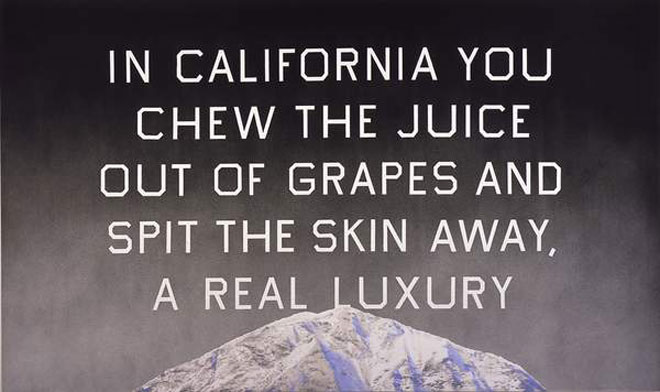 A rite of passage in life is to read Jack Kerouac's seminal 1957 novel,
On the Road
. It is one of the last great American adventure stories. Ed Ruscha seems to feel the same way. Currently on exhibit at
UCLA's HAMMER Museum
, Ruscha has created an entirely new body of paintings and drawings that take their inspiration from passages in Kerouac's novel.
As Douglas Fogle, HAMMER's chief curator, suggests, "It is completely fitting that Ed Ruscha would take up the challenge of looking at Kerouac's
On the Road
. In many ways Ruscha's entire career has offered an artistic corollary to Kerouac's linguistic portrait of the American landscape, giving concrete visual form to the poetry of our vernacular roadside. These new works are no different except that they channel one of the greatest chroniclers of the American landscape by appropriating and artistically framing fragmented instances of Kerouac's language."
This exhibition includes Ruscha's edition of Kerouac's legendary novel, six large paintings on canvas, and ten drawings on museum board, each taking its text from
On the Road
. Whether painted over snow-capped mountains in Ruscha's signature all-caps lettering or drawn atop delicately spattered abstract backgrounds, Kerouac's words provide the artist with a means to explore his own archetypal landscape. Isolating key sentences and phrases from the novel for his paintings and drawings such as "In California you chew the juice out of grapes and spit away the skin, a real luxury," "the holy con man began to eat," or "fit and slick as a fiddle," Ruscha adds another layer of deadpan aesthetic analysis to Kerouac's original and radical use of language.
Ed Ruscha
On the Road
Through October 2, 2011
HAMMER Museum
Los Angeles, California