Ed Emberley x Friends: The Simple Drawing Books and the Artists They Raised
Juxtapoz // Sunday, 04 Jul 2010
1
Squiggles, triangles, dots, circles and the other building blocks of drawing came together in clear, step-by-step recipes.
Of course, some of the kids who surrounded themselves with Emberley's books grew up to be professional artists. Opening July 17 at Scion's Installation L.A. Gallery, "Ed Emberley & Friends" will demonstrate the breadth of influence that Emberley's encouraging books have had on a generation of artists.
Curated by Caleb Neelon, the exhibition features Ed Emberley as well as five artists who were inspired by him. The artists include Raul Gonzalez, Seonna Hong, Matt Leines, Christopher Kline and Saelee Oh.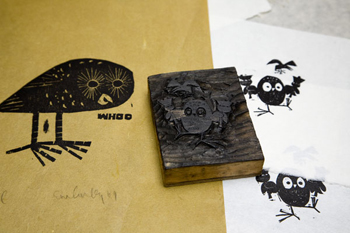 For "Ed Emberley & Friends," each artist will create a six-foot-by-six-foot wood panel that is a mash-up of their own style and that of Ed Emberley's instructional drawing books. The tribute paintings will be exhibited alongside examples of each artist's individual work. After the show, each of the large painted panels will be donated for long-term display in children's hospitals around the United States.
Emberley will have the largest presence in the show, contributing work from his archives including dozens of pages from the 1970s original mockups of his books. He will have recent drawings of his classic characters for sale, as well as a limited-edition print made especially for the show.
The opening reception takes place on Saturday, July 17, 7 – 10 p.m. at the Scion Installation Space, 3521 Helms Ave. (at National), Culver City, CA 90232. The reception is free with complimentary valet parking and an open bar. All artists will be present, and available for comment.
The exhibition will run until August 7.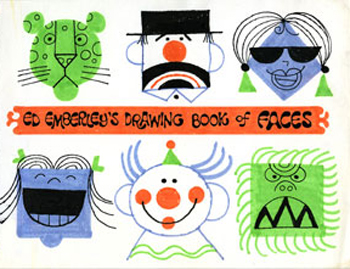 About Ed Emberley
Ed Emberley has been operating on the fringes of art education for nearly 40 years, not as a classroom teacher but as an author of step-by-step drawing books. In so doing, he has helped hundreds of thousands of kids keep an interest in art by offering the simplest of encouragements: Try it again. You can do it. Here's how. Emberley was born in 1931 in the Boston suburb of Malden and was raised by a working family in nearby Cambridge. After graduating from what is now the Massachusetts College of Art and Design in 1967, Emberley and his wife Barbara made a children's book called Drummer Hoff. It was a critical success, winning the Caldecott medal, the most prestigious annual award in children's book illustration. Trying to buy time while he prepared a follow-up masterpiece, Emberley pitched to his publisher: "I said, well, I've got this squirrely little idea for a drawing book that I could knock out in a month. Everybody's gonna criticize it, and you're probably not gonna sell very many of them, but it would be kind of fun. It's a rote copying book, which you're gonna get all kinds of people coming after you for, but why don't we do this?" They did, and in 1970 Ed Emberley's Drawing Book of Animals became the first in his namesake series, which has sold over a million copies.
Ed Emberley certainly has a habit of success. He's worked on more than 80 books and has found a responsive commercial audience in Japan, where he has licensed his imagery for hundreds of products. The family business is now into its second generation. His children are both illustrators of books for young people as well, having learned by helping their parents. Emberley has kept up a steady stream drawing exercises that continue to inspire young people, just like they inspired a generation of now-adult artists.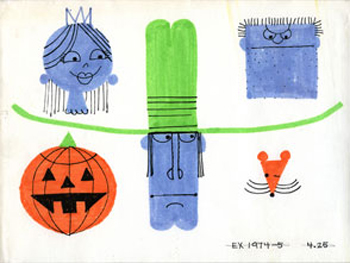 About the Artists
Raul Gonzalez is an Artadia award-winning artist from Somerville, Massachusetts. He is a founding member of the Miracle 5 artist collective and has exhibited at Carroll and Sons Gallery and the Mills Gallery in Boston. In 2010, he will begin a residency at the Institute of Contemporary Art in Boston and start preparations for an exhibition in the Linde Family Wing at the Museum of Fine Arts Boston.
Seonna Hong graduated from California State University Long Beach, and spent several rewarding years teaching art to children. In 1999, she made the transition into the animation industry, and in 2004, received an Emmy Award for Individual Achievement in Background Styling for her work on the Nickelodeon show My Life as a Teenage Robot. She continues to keep her plate full with national and international gallery shows, and in 2005, released her first moving picture book, Animus.
Matt Leines is a Philadelphia-based artist. His finely detailed paintings and drawings are an amalgam of memories, filtered influences from the long and varied histories of art and culture, and life's obsessions. His work has been showcased in exhibitions and collections across the globe, and his first monograph, You Are Forgiven, was published by Free News Projects in 2008.
Christopher Kline was born in Pennsylvania, currently lives in Philadelphia and works out of the Chinatown gallery and studios, Space 1026. Kline makes multi-colored screen prints, colored pencil drawings and the occasional collaborative zine. His work has been shown in New York, San Francisco, Toronto, Austin and Philadelphia.
Saelee Oh is an American artist of Korean descent who currently lives and works in Los Angeles. In 2003, she graduated with honors from Art Center College of Design in Pasadena with a BFA in illustration. She has given presentations at Saint Lawrence University and Harvard University, and her work has been exhibited in galleries and museums across the United States, as well as in the UK and Japan.
About the Curator
Caleb Neelon is an artist and writer based in Cambridge, Massachusetts. Recent projects of his have been displayed in the past year at the Boston Museum of Fine Arts and Children's Hospital Boston, and in his 2009 monograph from Gingko Press, Caleb Neelon's Book of Awesome, which collects his mural and gallery works from around the world. He is co-author of the forthcoming HarperCollins book The History of American Graffiti. He still has his childhood drawings based on Ed Emberley's drawing books.
Opening Reception Saturday, July 17, 2010, 7-10 p.m.
On view July 17 Through August 7, 2010
More information on this exhibition is available at www.scion.com/space
Scion Installation Space
3521 Helms Avenue
Culver City, CA 90232
T: 310.815.8840
Gallery hours are Wednesday through Saturday 11 a.m. to 6 p.m. and by appointment: (310) 815-8840