Early Taste of September 2010 from Juxtapoz with RETNA x INSA
Juxtapoz // Tuesday, 17 Aug 2010
1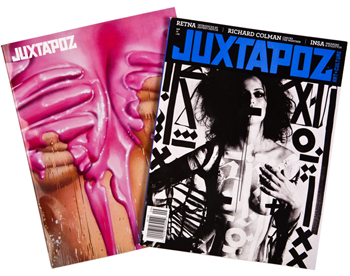 We just got issues of our next September 2010 edition in and we must say, they're pretty hot. RETNA graces the newsstand cover with a feature interview with MOCA Director Jeffrey Deitch, while the subscriber cover features the powerful imagery of London's INSA.
We expect these covers are going to stir the pot a bit, so keep the artist's own stories in mind. "You're doing the exact wrong thing, focusing just on the image," INSA explains.

Inside you'll find feature interviews with Richard Colman, Allyson Mellberg, Pose, KC Ortiz, and Jamie Caliri. Look out for it soon hitting newsstands, inboxes, and mailboxes alike.