Image Gallery
E3 2011 Coverage: Microsoft XBOX 360 Press Conference
Juxtapoz // Tuesday, 07 Jun 2011
1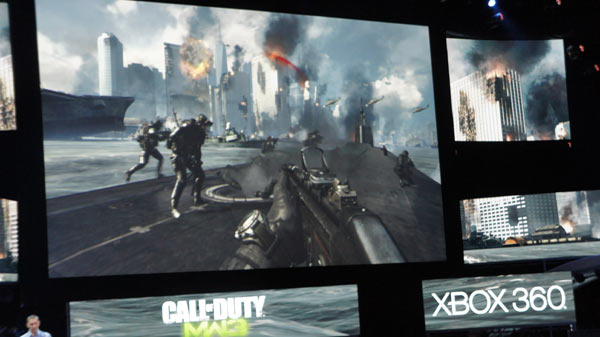 E3 2011 is upon us and kicked off with a BANG. Microsoft's press conference took my breath away, along with everyone else I think, with what they have promised from Kinect almost two years ago came true today.
Text by Nick Lattner / Juxtapoz Video Game Editor


Modern Warfare 3
Obviously one of the most anticipated titles of the conference, Modern Warfare 3, did not disappoint. Infinity Ward is back as the powerhouse of some of the most popular iterations of the Modern Warfare franchise, and they are taking you to more countries and landmark destinations then ever before. The graphics were amazing, and the story arch has you lost in the action, while still giving the player complete control and a sense of adrenaline that few games can inspire.


Tomb Raider
Everyones favorite archaeologist, as well as a figment of many a sweet dream of young boys everywhere, is back! This time its an origin story, that teaches us how this young 20 something aspiring archaeologist, became the ass kicking, digger that well know and love today. With new "abilities" which allow you to use Lara's heightened senses to detect items of interest, along with enemies, there should be plenty of goodness to look at. All though the demo shown seemed to involve a lot of "quicktime" events, I am really hoping they do this latest version justice.


EA Sports
"It's in the game" has long been EA Sports' motto, and they have now brought the game fully into your living room. Showcasing 3 games at this years event, Tiger Woods, Madden, and FIFA, all with Kinect control, and hinting at a future "secret" title to be released later in the year (our guess, or hope, its MLB), they are really bringing the heat. The 1:1 motion control of your favorite athletes has long been a dream, now you can throw it like Manning, drive like Tiger, and bend it like Beckham till you bicycle kick your plasma to the technological graveyard.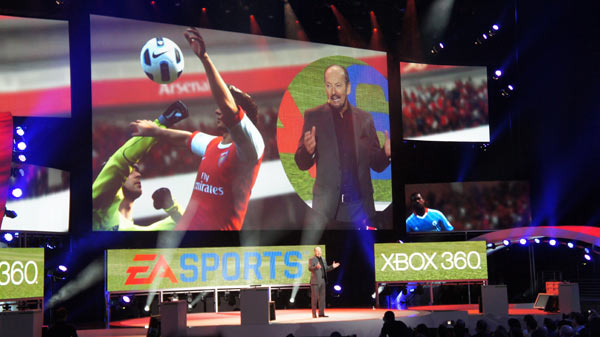 Mass Effect 3
The game that made you responsible for your decisions, is back at it again. This time they are bringing you a completely new storyline, with some completely new features as well. WIth new voice recognition technology via the Kinect, you can say which option you want to choose when presented with a choice. Now this is a bit gimmicky in my opinion, but it does seem to speed up the game in a sense. But the ability to control your squad via voice, that's another story. For eons I have been yelling at my AI teammates, somehow hoping they could hear me, NOW THEY CAN. Thank you, now I can really feel like a bad ass when mowing down some enemies.


Ghost Recon: Future Soldier
Tom Clancy has brought some of the most creative titles of the FPO genre to fruition in my opinion. And this new installment really takes the cake... then throws it in your face, beats you with the spork you tried to use on it, and makes you eat dirt instead. The customization level of the guns is absurd (in a good way) allowing you to modify and swap out internal components of each gun at will. And switching between quick setups of guns, along with a randomize feature, and a even simple option such as long distance or close quarters. Oh, and did I mention this is all done by Voice and Gestures?!?! Yes, watch the video above and marvel at the exploding views and accurate selection of any component of the gun, along with re-assembly and test range all at your fingertips, Literally. Something tells me I may be spending a lot of time just futzing around with this feature. This is one of the best implementations of the Kinect technology I have seen to date.



New Features to XBOX Live
We have gotten used to being able to activate Netflix, and other features via Kinect for a while now, but with this update they are preparing to make the XBOX a true media hub. With new partnerships with the likes of YouTube and Bing, they are showcasing some pretty sweet features. Want to search for the latest X-Men episode/movie/game? Just ask Kinect and you will be presented with a scrollable list of all available web content and gaming selections available through Microsoft. Oh, and don't think that this is just a glorified Apple TV feature, because now you can get Live TV, yes real honest to goodness, Live TV! Watch your favorite shows, news, etc.. LIVE, I don't know if I stressed this enough, ITS LIVE TV!! Enuf said!



UFC Events
Expanding on the Live TV front, they are introducing a partnership with UFC to stream future UFC Fights live, along with interactive features that let you talk trash to your friends, and even "Bet" points and such on who will win the fights throughout the night, complete with leader board so you can hold your superior Fight Night knowledge high above your friends heads where it belongs.



Gears of War 3
Everyone's favorite space marines are back. Gears brought some new characters, mainly to note they are of the Female variety, and even brought around Ice-T for their big showcase. He is even doing a special song with his old band Body Count, exclusively for the games Horde mode. Oh, yeah the Horde mode, the chance to have all your friends relive their childhood games of Capture the Flag, smashing around trying to rip you full of bullets. Not a huge showing in my opinion, but when your previous titles included guns with chainsaws attached there is not much to improve upon.



Ryse
As little as I have heard of this game, it blew my mind. Forget about the fact that you are soldier fighting in the Roman Age, one of my all times stages for video games, but the Kinect control looks excellent! Blocking with shield, shoving your sword in the belly of your enemy, and even head butting were all showcased. And shown to be not just a "gesture" based action, but almost true 1:1 attacking. This title can't come soon enough in my opinion.



Halo News
So Microsoft is bringing Halo back, and I don't mean a new sequel, I mean the original. Re-mastered and including a few new Level Packs and features, the title dubbed Halo Anniversary will be your favorite game, just more beautiful and elegant then ever. And they also showed a very very short trailer for Halo 4, now thats what I really wanted to see!





Forza 4
Racing games have always had it hard in my opinion, there are not really many new ways to control a car, similarly there are not to many features to add to the game, unless you go the battle car route, but who really wants that in a serious racing game. Forza 4 has brought some truly Next Level graphics to the genre though. Just watch the video understanding that all this footage was filmed in-game.



Fable: The Journey
Never one of my favorite titles, Fable is back, and making you start your leveling up quest all over again. But there is a certain level of satisfaction in the new controls that give you "force" powers allowing your spells to be cast by hand gestures. This has actually re-ignited my interest in this game.



Minecraft
Yes you read that right, the YouTube sensation that has engrossed millions is now coming to a console! Soon you will be able to explore user created worlds, and build your own all with the Kinect! They didn't showcase much of this title, but I am hoping they will not ruin a beautifully simple game by making the Kinect control too finicky.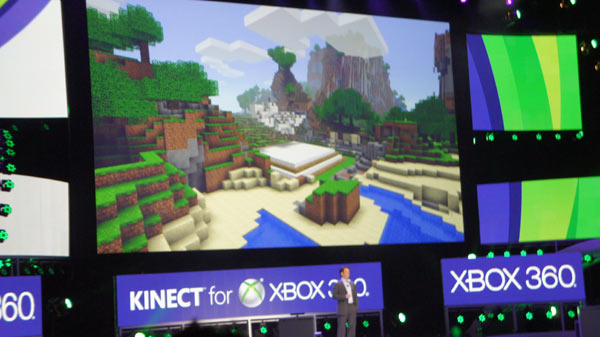 Disney Land
While this Disney inspired adventure is supposed to emulate an experience at the actual park, and what they showed of walking around the park was REALLY GOOD, all the "rides" that they showed seemed eerily similar, like they used the same game engine over and over again, and just painted them different. But it still seems like a kid friendly title, that might stir some feelings of nostalgia among adults as well.



Kinect Star Wars
One of my favorite movie franchises of all time, and no game ever seems to do it justice. You could tell they didn't really want to showcase the Kinects involvement, because it was not showcased on the smaller screens. The controls seemed static and analog at best. Really hoping the final release of this is a step up from this demo.



Kinect Sports Season 2
Microsoft's answer to Wii Sports is back. They showed some new gestures that help in games like Golf, and Darts, but what really stole the show was Football. Playing with your friends and being able to really "Get in the game" makes this an easy pick to buy, cause it has 1:1 control just like Madden, but also contains a plethora of other sports on the same disc, making the most out of your money.



Dance Central 2
Get ready to look like a fool and sweat your ass off. Dance Central is at it again, and they are letting you keep your music. Yup, all that music you bought for the original will be available to you in the new version. And now you and a friend can dance, AT THE SAME TIME! This long awaited feature is the real highlight if you ask me, looking like a fool in front of your friends, not so hot, looking like a fool with your friends, A DAMN GOOD TIME.



Kinect Fun Labs
Live, starting today, this was one of my favorite demos of the day. The Kinect is an amazing piece of technology, and people are finding new and creative ways to use it everyday. Microsoft now has set up a place on the dashboard where you can play around with, and explore many of these new Kinect experiments. Everything from turning your favorite stuffed animal into a 3D Character that you can control, to generating photographs with elements crossing from foreground to background and looping around your photo, all in 3D, these experiments are surely only going to get more and more elaborate as each developer is pushed by the previous ones successes.