Dunk Ethel 2010 from INSA
Juxtapoz // Monday, 05 Apr 2010
1


"They will be on sale this Thursday at the Kicks N Canvas exhibition," INSA continues. "Doors open at 6.30pm" Good luck nabbing them, but damn they look fresh.
"Kicks N Canvas asked me along with 20 other artists to submit a pair of custom sneakers and a 50cm x 50cm original piece to compliment the shoes. Other artists include Goldie, Inkie, ATG, Anthony Lister, Benedict Radcliffe."
Private view Thursday 8th April 6:30- 10pm
The exhibition runs from April 9 – April 24 and is open from 10am-6pm daily at The Gallery
50 Redchurch Street, London, E2
Please contact www.kicksncanvas.co.uk for all inquires and to RSVP to attend the preview night.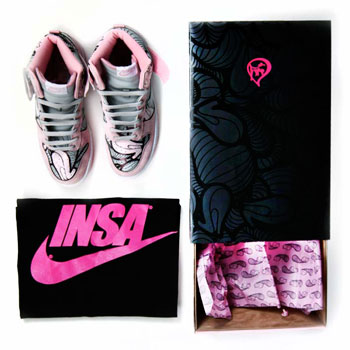 Read up on INSA's latest work interpreting Chris Ofili now on view at the Tate Modern here.