Dreaming with Art: The Art + Hotel in Tel Aviv
Juxtapoz // Tuesday, 29 Dec 2009
1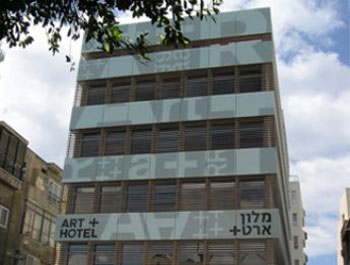 Dreaming with Art: The Art + Hotel in Tel Aviv
by Mendi Kogosowski

Nuki Sigora, Special Projects Manager of Tel Aviv's Art+ Hotel, is committed to providing its guests with more than comfortable rooms and a central location: her role is to assimilate art into every aspect of their stay. "The added value of staying at a hotel dedicated to art is simply unique, don't you think?" she says.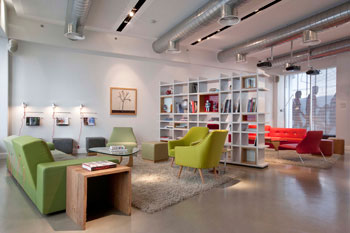 Image courtesy of Nuki Sigora
A new boutique hotel dedicated entirely to Israeli art, Art+ is the first hotel of its kind in the country. It is a collaborative undertaking between the Atlas Hotel chain, which specializes in unique boutique hotels, and the Sebbag family, the hotel owners.

Five Israeli artists were commissioned to create site-specific works for each floor and to enrich it with a unique atmosphere. Each of the five corridors is adorned with a mural that conveys the artist's personal experience of the space, as well as a visual quotation that is reproduced in every room on that floor.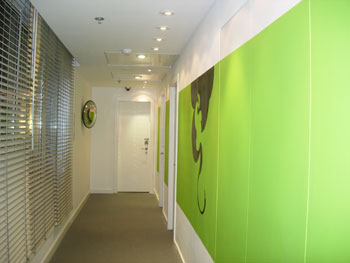 The fifth floor, designed by Doron Rabina (Untitled, 2008), consists of a "graphic silhouette of curled smoke, a satellite dish, and an inverted eyelash which resembles a graphic representation of the sun" (Rabina)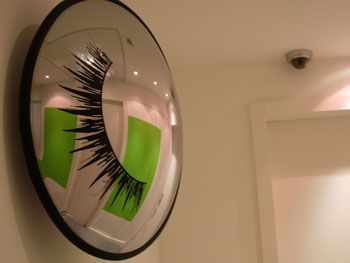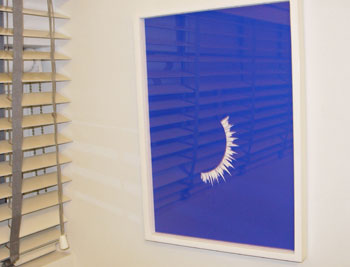 The inverted eyelash reproduced in one of the rooms of the fifth floor

The hotel provides an easy place for artists and other guests to mingle. Sitting in the library or in the foyer, surrounded by art books and magazines, they chat and make plans to visit local galleries and exhibitions together. Says Sigora: "The best way to learn about a certain culture is to immerse yourself in it. Art is a good place to start."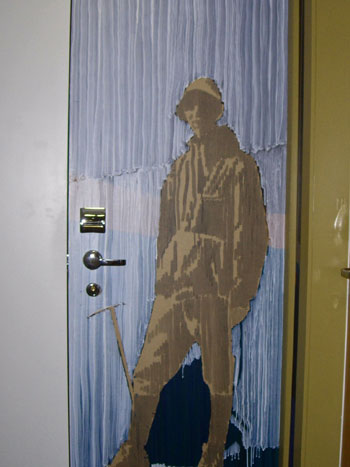 Part of Olaf Kühnemann's work, MDF Wood (2008, sanding sealer and acrylic on MDF), on the 4th floor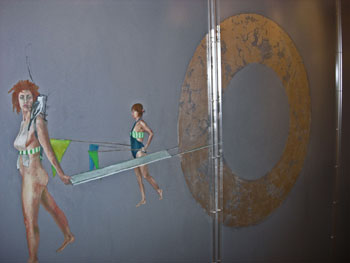 Ayelet Carmi's work on the 1st floor, Earth Writing Discipline (2008), on both sides of the corridor: each side conveys a different spatial perception, and together they evoke a sense of wholeness.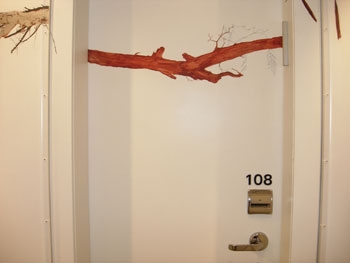 Note: In addition to the commissioned work, several other pieces by local artists are present in different spaces throughout the hotel. All works are from the Doron Sebbag Art Collection, ORS Ltd.

Unless otherwise specified, all photos were taken by the writer.
For more info: www.atlas.co.il/art-hotel-tel-aviv