'Drawing in Circles' with Tauba Auerbach at Exploratorium
Juxtapoz // Friday, 03 Sep 2010
1
Auerbach created a large drawing exhibit that encourages full-arm motions as the gears sweep around and create patterns of loops. This artwork allows visitors to take home a record of their actions (which is rad, as any SF resident knows that the Exploratorium is mostly a science-infused children's museum). The Geometry Playground will be up through this Monday, September 6th so take the weekend and see it in action.
If you have 5 minutes, we highly recommend you watch this short video where Auerbach talks about randomness, the unity of art and science, and the way her Geometry Playground piece uses the beauty of geometry to draw visitors into a zone of comfort with math and their own artistic capabilities. She's got a lot to say about this one.
More info on the 'Geometry Playground' here.
About the artist:
Tauba Auerbach (b. 1981) is a New York based artist working in painting, photography, printmaking, and installation. Her work uses a variety of approaches to investigate language as a system of logic and the relationship between order and chance. Auerbach often creates objects that occupy various "conflicting" states, particularly 2-dimensional and 3-dimensional states raising the issue of fractional dimensionality and questioning cartesian spacial logic. Recent series like her "Static Photographs" and "Crumple Paintings" create elegant optical patterns while opening up the possibility for contemplating other dimensions. Auerbach was recently included in the Whitney's 2010 Biennial [More on this HERE]. The downtown installation will be on view from now through August 29th.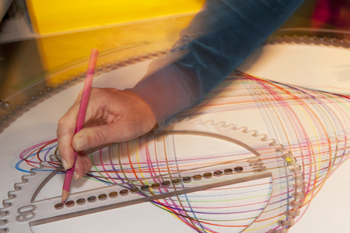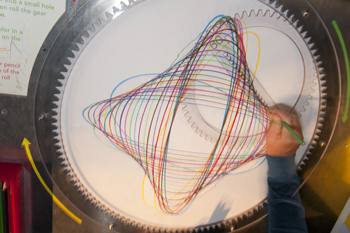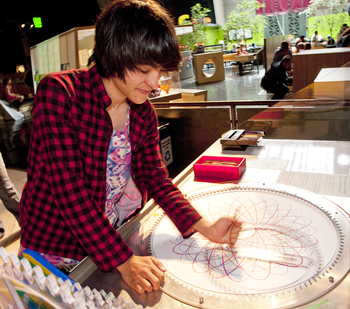 Photos special to Juxtapoz, by Amy Snyder, © Exploratorium, Exploratorium.edu