Double Take in Brooklyn
Juxtapoz // Sunday, 01 Nov 2009
1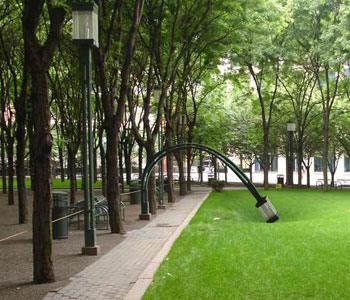 Double Take
is a group exhibition featuring six emerging artists at MetroTech Center in downtown Brooklyn. "Playful and provocative,
Double Take
brings fresh momentum to the Public Art Fund tradition of giving today's most exciting young artists the chance to debut new work in our public spaces." said Nicholas Baume, Director and Chief Curator of the Public Art Fund.

Double Take
showcases new commissions by Michael DeLucia, Christian de Vietri, Natasha Johns-Messenger, Johannes VanDerBeek, and the collaborative team of Matt Irie and Dominick Talvacchio. Designed with the site's specific conditions in mind, the artists have taken an element of the existing architecture or environment and subjected it to a process of modification or metamorphosis.
Each work plays with fantasy and illusion to force a shift in perception, in turn creating a mirage of sorts. Nothing is as it seems: a chain-link fence dissolves into pixels, a bonfire yearns for its flame, outdoors is indoors, a ghost lurks, and a lamppost bends. Double Take celebrates the curious over the comfortable, the strange over the simple, and the mysterious over the mundane.


Double Take:
group exhibition curated by Jesse Hamerman and Liz Linden
of new works by
Michael DeLucia, Christian de Vietri, Natasha Johns-Messenger,
Johannes VanDerBeek, and the collaborative team of
Matt Irie and Dominick Talvacchio
At MetroTech Center
November 11, 2009 - September 10, 2010