Image Gallery
Doomsday Robot Shelter by Kacey Wong
Juxtapoz // Tuesday, 05 Jul 2011
1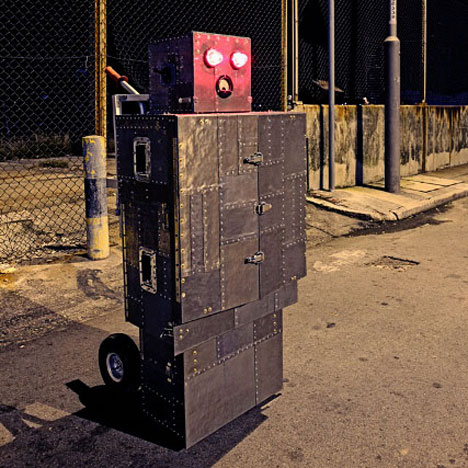 This may look like the typical, vintage-inspired robot. But Hong Kong artist, Kacey Wong, has created this mobile living unit that "protects people from radiation leaking from nuclear power stations." This robot comes on the heels of Wong's robot for rich people turned homeless by the credit crunch.
The Doomsday robot is designed for "one person and made of lead, the suit serves as a mobile home that unfolds to create a bed and features solar panels to power electrical devices the inhabitant may need during radiation alerts." As you can see below, you get in like you are sleeping, and the robot then adjusts into a standing position. But you are fine, and the nuclear fallout won't hurt you until you wake up and walk out.
As Wong says about the project, "Doomsday is an anti-nuclear radiation mobile living unit made of lead panels for one person, when lay flat on the ground the four solar panels could generate 15 volts of electricity for small electronic appliances. People often have blind faith towards the machine and think they could resolve all of nature's problems.

"Unfortunately, this time our machines turned around and destroyed the most important life supplies in nature, polluting water, food, and the air."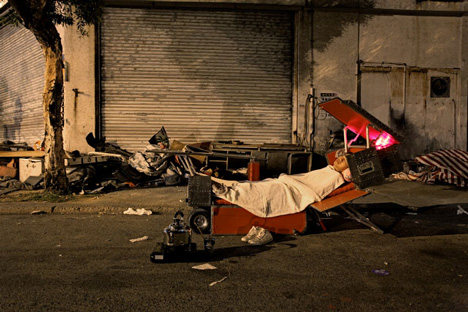 via