Dogboarding: A Short by The Daniels
Juxtapoz // Wednesday, 30 Mar 2011
1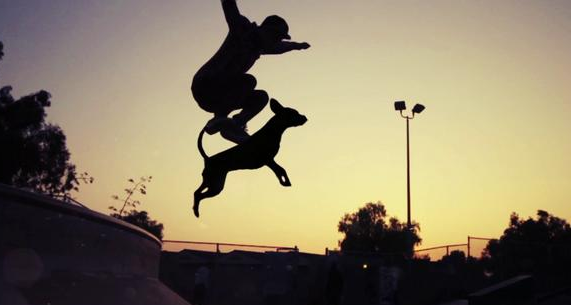 Of course I can ride my dog at the skate-park. Sunshine, skateboards, dogs, and a video by The Daniels.
The Daniels, an innovative directing duo that continue to warp realities with fantastical video,  have produced with Gaetano Crupti, a new level of surreal dream juxtapositions. Something as simple as merely saying "of course I can ollie my dog" is absurd, until you see it. The dogs are happy, the vibe is relaxed and light-filled, and the music is just right.
We asked The Daniels about the making of the video:
"We conceived this video as a love letter to cool things, ie. Skateboarding and doggies. If you could ride around on your dog that would be awesome. It sounds stupid, but we wanted to make this badass, epic, joyful- and only a little stupid.
We modeled the functioning dog skateboards and rollerskates on our pets and friends' pets and then shot in the LA area with a cast of skater/filmmakers sometimes just giving them the camera so they could film each other riding. In case we weren't clear, it's not real!"
Watch and enjoy.
Dogboarding from DANIELS on Vimeo.