Image Gallery
Dirty Hands: The Art and Crimes of David Choe DVD and Live Stream
Juxtapoz // Tuesday, 12 Jul 2011
1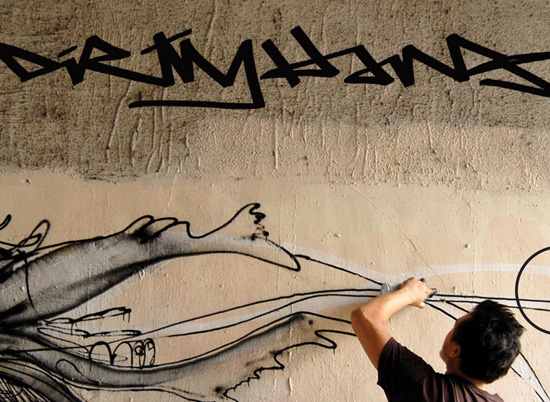 This past winter,
David Choe's
documentary, aka,
Dirty Hands: The Art and Crimes of David Choe
, closed out our film festival with MoMA, All the Wrong Art: Juxtapoz Magazine on Film. Now Upper Playground is releasing both a deluxe DVD of the film, and live streaming on their site.
From UP:
The Dirty Hands DVD is now available for the first time ever exclusively at Upper Playground. Officially releasing on July 18th, we have a pre-sale of the 2-Disc DVD available early to you where 121 of the pre-sale orders will receive a Munko Vinyl Toy. Dirty Hands is also streaming for free at Upper Playground, check it out here.

The double-disc DVD will be available for pre-sale starting July 12th at Upper Playground's online store preceding it's official release on July 18th. 121 of David Choe's 'Munko' vinyl figures will be given away randomly to anybody who purchases a DVD during the pre-sale. The double-disc DVD-set features over 3 hours of bonus footage not included in the film as well as a 20-page booklet designed and written by David Choe. The film will also be exclusively streaming at Upper Playground's website.