Digging Deeper with Alexa Meade: Exclusive Interview
Juxtapoz // Saturday, 20 Mar 2010
1
What inspired the idea?
The Living Paintings project grew out of the seed concept of painting the shadows as they are cast on top of objects.
How long have you been doing these types of installations?
In August 2008, I began developing the seed of this idea. After 9 months of myriad experiments, I had that ah-ha! moment while painting Bernie [see below] in May 2009. In the blink of an eye, everything I had been working on converged and the puzzle pieces fell perfectly into place. After spending several months honing my technique, I officially unveiled the project in October 2009.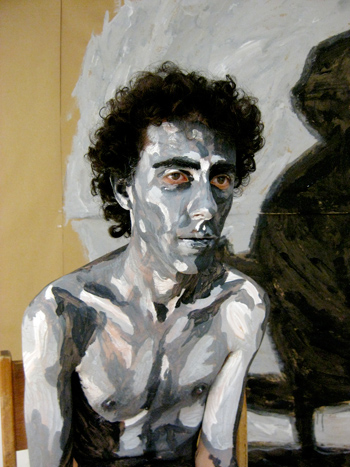 How long does painting take?
The amount of time it takes to paint an installation has to do with the complexity of the scene. A simple head and shoulders portrait may take a couple of hours, while a full body portrait situated in a painted scene takes longer. The most challenging part of this project is that all of the painting and photography has to be completed within a day. It's not like I can send my model home covered in paint and say, "see you tomorrow!"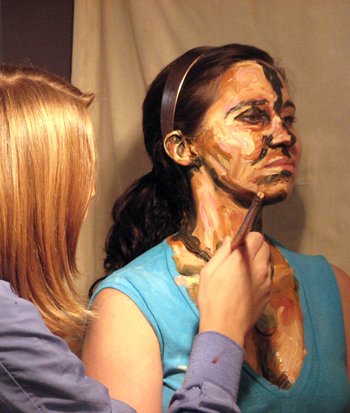 When people see it in person, how do they react?
In essence, I am transforming people into art objects. It is not often that an object can return the gaze of the viewer. Many viewers feel uncomfortable making direct eye contact. There are a lot of sideways glances.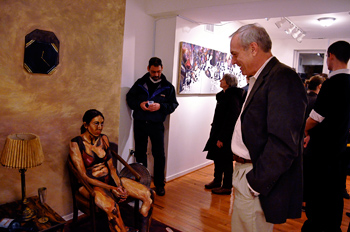 Do you have formal art training?
I studied politics in college. I took some art classes on the side, but nothing related to painting or photography. My last formal painting instruction was when I was 16 years old and completed a summer program. After that summer, I put down my brushes and took a 6-year break from painting. I was inspired to pick my brushes back up when I was struck with the idea for this project.
How has your background in politics affected you?
My projects spin reality. A major concept I have applied from my experience in political communications to my art is that what one experiences cannot always be interpreted at face value; seeing is not necessarily believing. By wrapping my subject in a mask of paint, I skew the way that the core of the subject is perceived.
What are you saying with your art?
My painting technique pushes the boundaries of perception, compressing 3D space into a 2D plane and effectively blurring the lines between art and life. Typically, when you look at a painting, you're looking at an artist's interpretation of the subject painted on canvas. In my artistic interpretation of the subject, I paint directly on top of the subject I am referencing rather than using canvas. Essentially, my art imitates life – on top of life. For example, with Portrait of a Self-Portrait you are simultaneously looking at a portrait I painted of myself, a photo I took of myself, and at me.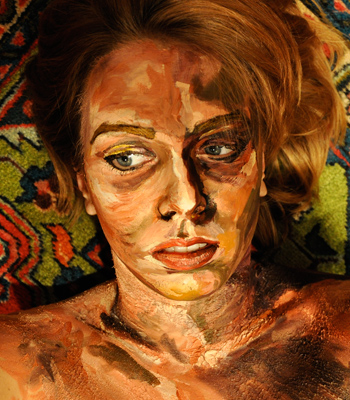 How can fans acquire a piece of your art?
I sell archival quality, limited edition prints. I also do commissioned portraits.
If you missed our earlier post on Alexa Meade, it lives online here.
More on Alexa at: Alexameade.com