Die Antwoord x Juxtapoz x Next level zef shit
Juxtapoz // Monday, 18 Oct 2010
1
Juxtapoz was lucky enough to tag along on their journey through the city starting at Amoeba for an in-store performance and signing, followed by their headlining show at the Independent, and ending at Treasure Island Music Festival. Bringing pelvic thrusting to a whole other level, they definitely brought their Zef style and blew our minds.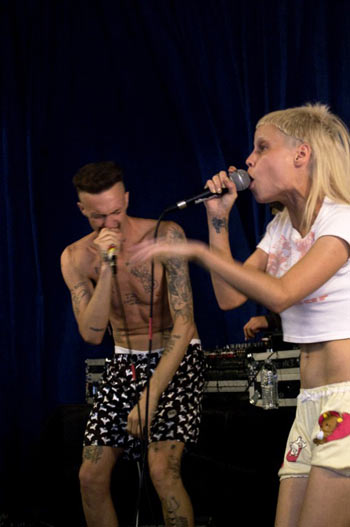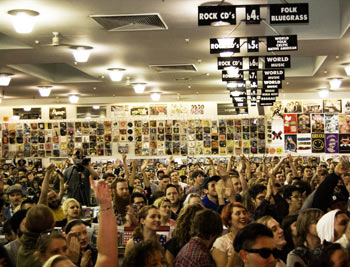 I have never seen Amoeba that jammed packed for an in store performance. The crowd went all the way to the back of the store. As soon as they came on the stage, the audience went wild, everyone feeding off of Ninja, Yo-Landi and DJ Hi-Tek's energy.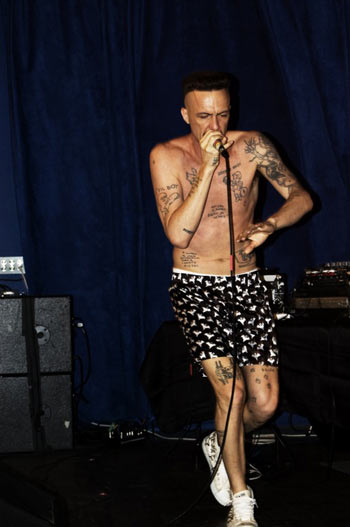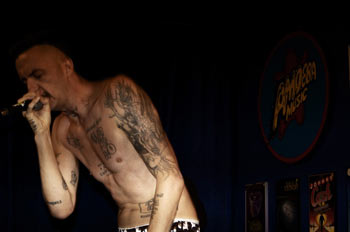 The dynamic between Ninja and Yo-landi Vi$$er is something that exists no where else. The magnetism those two share draws you in. Their live show puts you in a trance where you can't help but dance to the beat, scream their outrageous lyrics and of course…pelvic thrust yourself! Even what they are wearing on stage makes you question how the hell they came up with this stuff. After witnessing their live set at the Independent, we were able to link with the dynamic duo at Treasure Island Music festival, because we just had to get these questions answered.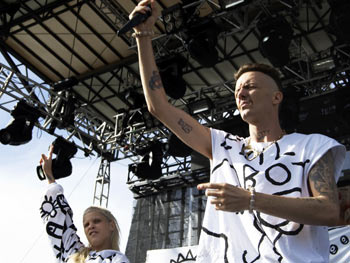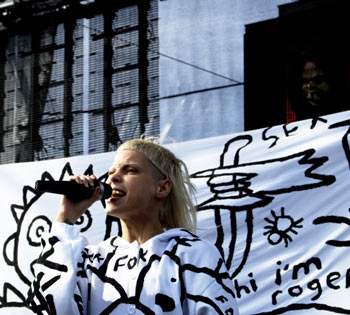 We scoped out a prime spot behind the festival grounds, and had an intimate one on one video interview with Ninja, Yolandi and Jeanette from Juxtapoz. Asking questions about inspirations of their live show performances, upcoming side projects, including the making of vinyl toy sculptures, and collaborations between them and other visual artist like David Choe [see Choe's photos with the group at Coachella here] and Roger Ballen. We even got a "Pelvic Thrusting 101" tutorial straight from Ninja. So you best stay tuned for the video interview coming soon…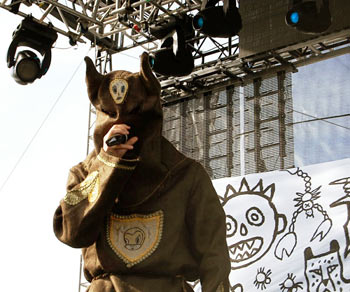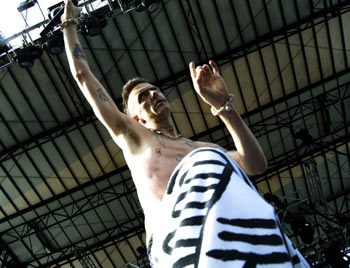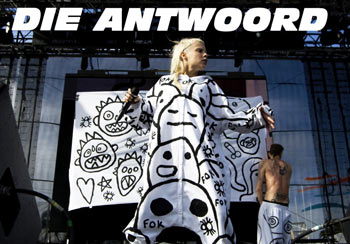 Amoeba photos: Jeanette Sawyer
Treasure Island photos: Merlin Jackson