D*Face Installation: Work In Progress
Juxtapoz // Saturday, 19 Sep 2009
1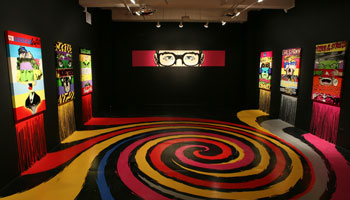 To complement the Exquisite Corpse theme of D*Face's show
Ludovico Aversion Therapy
, the three-panel 8' x 12' focal point of the artist's site-specific installation was unveiled on opening night at Jonathan Levine Gallery in an unfinished state, and will change over time.
Beginning with an image of the artist's own eyes on a black background, D*Face will add additional layers individually over the exhibition's run, so that visitors may return to see the work develop gradually into it's completed state.

The show runs through October 10th, be sure to come back to check out the progress!
See opening night photos of D*Face's show here.

More info at www.jonathanlevinegallery.com