Deerhunter Rocks SF's Noise Pop Festival
Juxtapoz // Friday, 27 Feb 2009
1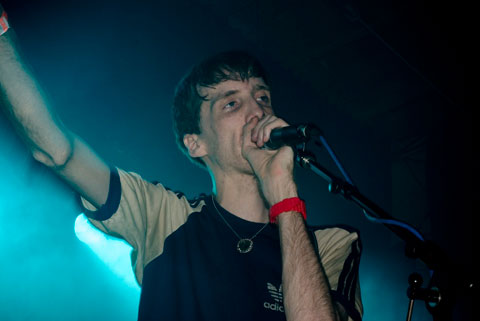 Deerhunter Rocks SF's Noise Pop Festival
Words by Evan Pricco
Photos by Kevin Johnson

Every year, I try and see at least two Noise Pop Festival shows here in San Francisco. I have great memories of seeing Britt Daniel of Spoon performing solo with just guitar and a 1990s-looking boombox (you know, the ones that had the subwoofer speakers on the sides) that he used the same drum beat for about five songs, and it was brilliant.

For 2009, Noise Pop opened the festivities with an "it" band. It being Deerhunter. Deerhunter is popular with the same people who would have liked My Bloody Valentine and Slowdive in 1991. That is, people who like pop that is swallowed by ethereal and sometimes static noise. I'm one of them, and because I was 9 in 1991, my parents wouldn't let me attend MBV shows, although, and somewhat alarmingly, I was allowed to listen to "Doggystyle." I digress.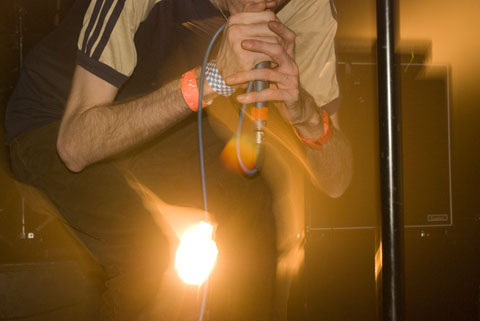 The good thing about Noise Pop is that if you miss a show, there are at least three or four more shows that will fit your aesthetic. For instance, if you miss St Vincent tonight, you can see Bob Mould or AC Newman Saturday night. And of course, you can see No Age on Sunday afternoon and Les Savy Fav on Sunday night if you want to "double bill" yourself. I'm explaining that there are options, and that is what makes Noise Pop great.

Things I think you should attend this weekend in San Francisco if you are going to participate in Noise Pop festivities: Pop n' Shop, from noon to 4pm at the Verdi Club, an "independent design fair - featuring over 40 Bay Area designers and artists selling the latest chic and unique clothing, jewelry, limited edition screen-printed posters, and other fun stuff all at affordable prices.

Then go to a screening of I Need That Record: The Death (Or Possible Survival) Of The Independent Record Store at 4pm at Artists' Television Access, because the independent store is dealing with a recession and survival is key. Personally, I thinking AC Newman at The Independent for my wrap-up of the day, but Bob Mould, Portugal, The Man, Sholi, or Flosstradamus are all good as well if Newman and the power-pop ain't your thing. And then, might I again mention No Age at Bottom of the Hill on Sunday.

I just made your weekend for you. If you live in SF, that is. I'm not a dictator of your time, nor do I consider myself an authority on what you should do with your life, but this schedule is better than getting your taxes done.
More on San Francisco's Noise Pop at www.noisepop.com