DB Fletcher's Expanding Table is a Feat of Design
Juxtapoz // Saturday, 28 Aug 2010
1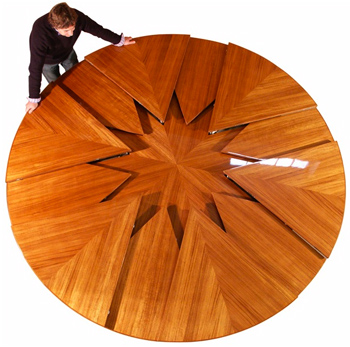 Talk about a feat of design. DB Fletcher only makes a few of these extraordinary expanding tables each year, hand crafted in the classic British traditions of furniture making. At $20,000 - $70,000 a pop, he can afford to make his tables just right.
The Capstan Table is the result of the latest mechanical design techniques, but with a heritage of over 150 years. This is a round table that doubles its seating capacity, from six to twelve, at the push of a button. Astonishingly it remains truly circular in the process.
These table are often created for private yachts and the mechanism was described as 'pure magic' by Boat International magazine; fast and impressive, taking only seconds to fully expand or contract.
The tables are commission-only and can be delivered anywhere in the world in a single shipment and then an installation technician, from the UK, completes the assembly on site.
The design is similar in concept to an antique Jupe table, but radically different. It's intricacy changes, according to the species of timber used, as the table metamorphoses from small to large, and vice versa. When small, the top is made up of six pie shaped leaves, and an outer skirt in the manner of a drum table.
Under this first layer lie two more layers of leaves, the first strata made up of six arrow shaped leaves and, under that, a large star shaped leaf. Below all of this lies the magical mechanism, constructed throughout in a combination of aluminum and stainless steel, and strikingly beautiful in its mechanical complexity. The whole assembly is supported on a base of varying design.
See the table in action to fully understand the feat of design by designer DB Fletcher.