Daze to show in Singapore
Juxtapoz // Friday, 12 Feb 2010
1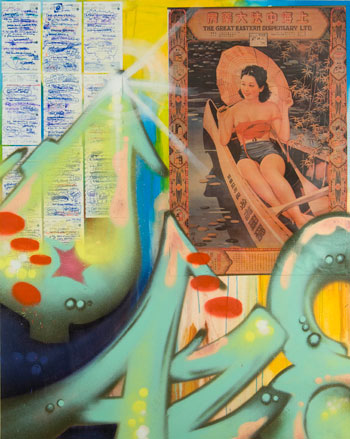 Daze, aka Chris Ellis will be flying half way around the world to Singapore for a show in March with Fortune Cookie Projects. From collaborating with Jean-Michel Basquiat in the 80s to solo exhibits across the world, Daze has amassed quite an impressive resume.
Daze became one of the pivotal figures of New York's Urban Art scene in the late 1970s. Unlike the 'taggers,' who merely covered every accessible public surface with repetitive calligraphic writing, Daze had higher ambitions.
In the 1970s, New York was dark, dirty, dangerous and broke. Young artists, finding no outlet for their creative visions, lashed out by taking their work to the streets and subways. The city would become their canvas. Daze was one of the pioneer 'train bombers' – artists who would enter train yards at night and cover the outside of the subway carriages with elaborate paintings depicting the city as they saw it.
Daze's fellow graffiti 'writers' were Keith Haring and Jean-Michel Basquiat. Daze's first 'sale' was collaboration with Basquiat – a collaged and painted refrigerator which they sold for $200 in 1980 to the Mudd Club, the celebrated new music venue in lower Manhattan. In the coming years these artists would leave the streets and enter the gallery and museum world. In 1982 the venerable Sidney Janis Gallery on 57th Street in Manhattan was the first to showcase New York's Urban Artists.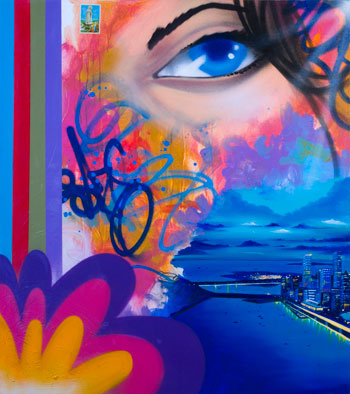 Over the years, Daze and his fellow writers have seen their work move from the inner-city to the mainstream. Indeed, the urban 'Wild Style' of the late 70s and early 80s has now gone global, influencing not only other artists, but fashion, design and advertising around the world.
Daze has been exhibited in museums and galleries all around the world, including the Grand Palais in Paris, the Brooklyn Museum, the New Museum of Contemporary Art in New York, the Fondation Cartier in Paris and many others. His work has been collected and show by the Museum of Modern Art, New York, the Ludwig Museum in Aachen and the Tate Gallery in London and by private collectors, including Eric Clapton and Madonna.
Singaporeans can see Daze in action at Vivo City. During the week of February 22nd, he will be creating a mural commissioned for the Sentosa ticket concourse.
On March 5th, at 7 pm, he will be joining Milenko Prvacki and artist and curator Zaki Razak for the panel discussion From the Streets to the Malls: The Cultural Assimilation of Graffiti Art.
Daze Solo Show
March 4-21, 2010
Fortune Cookie Projects, Singapore