David Ellis' Recollection
Juxtapoz // Tuesday, 17 Nov 2009
1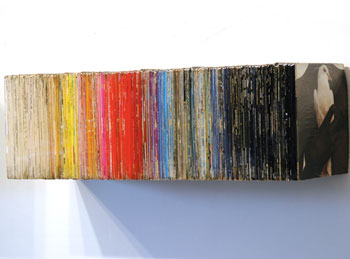 After several months of creating work all over the globe, Brooklyn-based artist, David Ellis, is back in New York with "recollect" a new solo opening on November 10th.

The Le Poisson Rouge performance space is a fitting host for Ellis' art, which reinterprets and experiments with sound. Using the spatial finesse of a sculptor and the mechanical wizardry of an engineer, Ellis often explores sound with kinetic installations that rhythmically produce analogue sequences. Ellis has made percussive instruments out of Smith-Corona typewriters, trash piles, and art materials. Previously this year, at the Huntington Museum of Art, West Virginia, Ellis created a moving, musical 30-foot catfish built out of record albums and paint buckets.

This show "recollect" features three new sculptures comprised of an arrangement of record sleeves cast together in resin. The show's title is multilayered; it's short for 'record collection' but also refers to a 'recollection', the complex process of remembering. Ellis thinks of the pieces as petrified memories.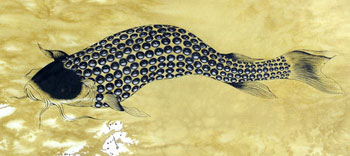 If you look closely at the work, you can make out individual titles of albums of artists ranging from Miles Davis to Van Halen to Skip James. The LP covers at the ends of each 'recollection' form a dialogue between each other. In a larger sense, the unified blocks of records are concrete representations of a segment of recorded history.

On three walls of the gallery space, spirals of LPs and 45s riveted together, create cloud reiterations. This series "black is black is black is black" operates like pulsing visual sound waves. Also included in the exhibit is the New York premiere of Combo, a motion painting David Ellis made in collaboration with Italian artist Blu during this past summer's Fame Festival in Puglia. Like jazz, Ellis' motion paintings provide him with an opportunity to combine ideas with collaborators or work solo within a form that promotes improvisation and spontaneity.

Currently Ellis has an exhibition in Mexico City entitled  "Fort Greene Park", a selection of new paintings, collages, and motion paintings. Coming up in December, in conjunction with Art Basel, Miami, he will present three kinetic Trash Talk collaborations with composer Roberto Lange as part of Scope, Verge, and the Margulies collection.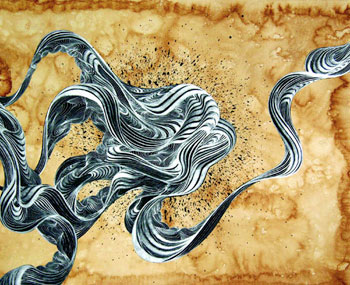 About the Artist:
David Ellis is an artist born into a family immersed in music. His paintings are often recorded in a form of digital time-lapse animation he calls motion painting. Like jazz, these works provide Ellis with an opportunity to combine ideas with collaborators and work solo within a form that promotes improvisation and spontaneity.

Ellis often stages events when exhibiting his motion paintings, inviting musicians, performers, and sound artists to interpret the work live. His motion painting, Paint on Trucks in a World in Need of Love was exhibited at MoMA. Ellis further explores sound with kinetic installations that produce analogue sequences in rhythm. His latest work, often in collaboration with composer Roberto Lange, deconstructs the inner workings of player pianos to create sprawling sculptures that automatically play percussive rhythms with recycled typewriters, buckets, bottles and cans.

More on David Ellis at: www.davidellis.org


David Ellis
Recollection
November 11, 2009 - February 12, 2010
Opening Tuesday November 10, 2009 6-8 PM
(Le) Poussin Rouge