David Choe x Mister Cartoon Video for 'Machete'
Juxtapoz // Wednesday, 01 Sep 2010
1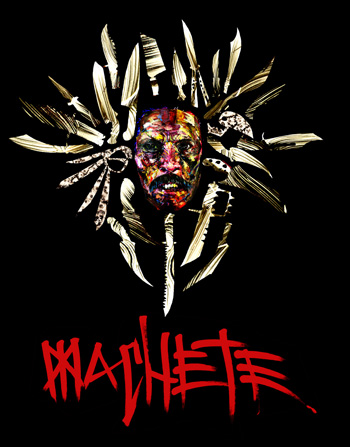 SA Studios selected world-renowned artist David Choe (Juxtapoz #112) to contribute an original piece to the promotion for the upcoming film, Machete. After lowriding around LA with film lead Danny Trejo, Mister Cartoon (Juxtapoz #70) also offers his rendition of the film poster.
Choe's unique spin on the film's poster features his infamous art bubbles that has a life of its own. Inspired by the iconic face of Machete star, Danny Trejo, Choe's contribution is a stunning blend of the artist's unmistakable personal style.
In addition, infamous tattoo artist/muralist Mister Cartoon also contributed brilliant Machete-inspired artwork in tribute to their longtime friend, Danny Trejo. Machete will be released this Friday, September 3rd.