David Choe "Yellow Armour" Special 11.11.11 Print Release
Juxtapoz // Friday, 11 Nov 2011
1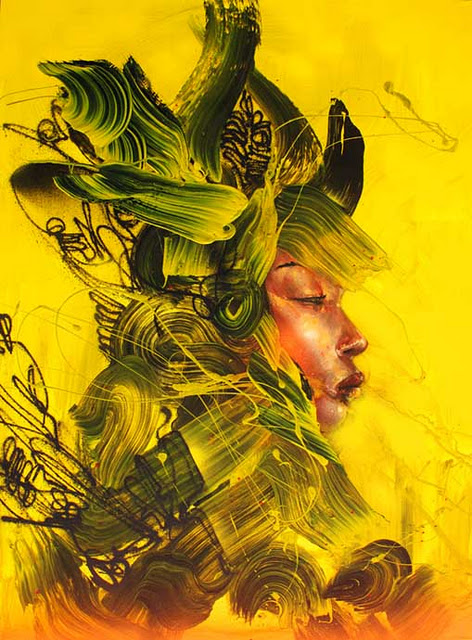 Okay, so we are going to have another 11.11.11 post today, and it involves
David Choe
and a special 11:11PM PST print release for the fantastic
Yellow Armour
image. The first 111 people who respond with David's instructions (after the jump) will win a
Yellow Armour
print.
Here are the instructions:
SO THIS FRIDAY AT 11:11 PM WEST COAST TIME ON 11/11/11 THE FIRST 111 PEOPLE TO SEND EVERYTHING ON THIS CHECKLIST (EMAIL RESPONSES ONLY) TO BNAMBA@LIVE.COM
will win a Yellow Armour print by David Choe.
1) Proof of donating blood, sperm, organs, marrow, food, or money to any good cause or charity or also proof of consensual incestuous relationship is acceptable
2) Apology or confessional letter
3) Photograph of you crying (or laughing so hard it looks like your crying) next to a deformed fruit, or any ape, or a really old or really young Oriental person, or someone shitting or video of you dancing really hard in a crowded public area for at least 5 minutes is acceptable
4) Proof of something that shows you ever loved someone
Will be rewarded with a print of
YELLOW ARMOUR
that will cost them 0 dollars and 0 cents, and 0 dollars for shipping, this is a free print, it is 18 by 24 inches printed on the best paper, all signed and numbered, there will also be a very limited edition of 11 oversize prints that will actually be for sale for non-charitable types who don't know love or forgiveness, these are 33 by 44 inches and cost 555$ each (I actually only have 6 of these left, you need to email
info@trapezeeditions.com
for these big ones) the original YELLOW ARMOUR was painted with a bucket of yellow and black house paint, yellow, black, and fluorescent orange spraypaint, and oil paint . (above here are some in progress pics)
David's site is always fun to read.