David Choe curates The Work of Rob Sato and Joseph To at Metropolis Gallery
Juxtapoz // Tuesday, 01 Sep 2009
1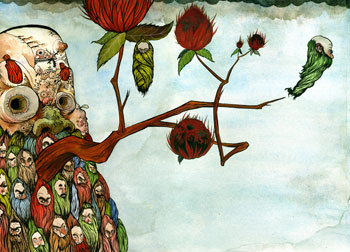 A special show curated by David Choe, comes to
Metropolis Gallery
from September 4-30th, 2009. The work of Rob Sato and Joseph To (
Juxtapoz #104
) is both disturbing and beautiful, which makes perfect sense, seeing as they roomed with legendary David Choe back in their early art-making days.
A contemporary of legendary street artist Shepard Fairey, whose red and blue Barack Obama "Hope" poster became an iconic image during the most recent presidential race, Choe hasn't shown a new piece stateside since debuting an iconic Obama image of his own at the 2008 Democratic National Convention. In light of the fact that Choe stopped staging shows in the U.S. in 2007, his return to America is massive in the art world; that it's happening in Lancaster, PA, is extraordinary.

Choe, who earned additional caché via his highly publicized incarceration in Japan and his prolific contributions to the art world, is also the subject of a new documentary film, Dirty Hands; the biopic's filmmaker, Harry Kim, will be in attendance at the Metropolis exhibit's opening reception.

Starring in Choe's curated show are fellow urban art luminaries Rob Sato and Joseph To. Praised for their careful nod to traditional Eastern folk art as well as contemporary influences, the artists mirror Choe's approach in both their precision and undeniable sense of humor.

About the Artists:
Sacramento, California's Rob Sato (work pictured above), celebrated as the author and illustrator of comic book Burying Sandwiches, is recognized for his almost compulsive desire to follow a joke to its bitter end. In layers of imagery with settings both mundane and fantastic, he creates a tiny world full of larger-than-life imagery, replete with side stories, symbols, disguises, tricks and the occasional red, white or blue herring.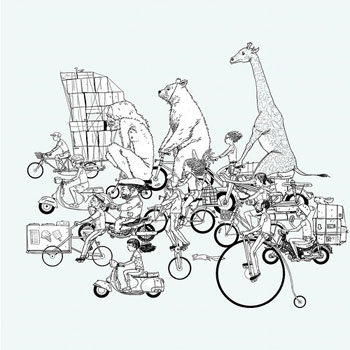 Joseph To (work pictured directly above) attended College of the Arts with his friends Rob Sato and David Choe. A natural illustrator, To applies his childhood love of comics and pop culture to his modern drawing and paintings, detailed, intimated snapshots centering on what he calls "sometimes bittersweet, damaged goods."??

Make sure to catch the extended feature consisting of an interview David Choe conducted with Sato and To in our current September 2009 issue.