Dave Burke, Mia and Sarah Folkman at Corey Helford Tomorrow
Juxtapoz // Friday, 24 Jul 2009
1
Open to the public, the reception takes place on Saturday, July 25, and the show will be on view until August 11, 2009 at Corey Helford Gallery in Culver City.
Visual artist Dave Burke (work shown above) joins Corey Helford for his first show with the gallery entitled "Heavy Petting". Burke's vibrant acrylic-on-canvas works explode with pop-surrealist visuals and tongue-in-cheek humor. Giant-sized pets, adorable dominatrixes and young vampires populate his fantastical narratives of opposites and extremes.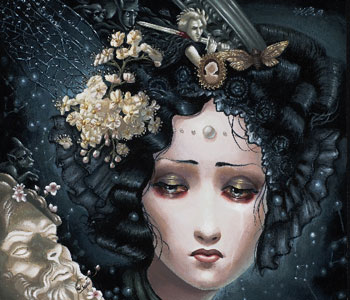 "Riddles In The Dark" is Mia's second exhibition with the gallery. Inspired by the classical myth of "Pandora's Box", her acrylic-on-panel paintings are a dazzling visual journey about loss, exploration and discovery. For the exhibition, Mia's feminine dreamlike imagery and mystical symbolism adopt a darker palette to illustrate her most introspective work to date.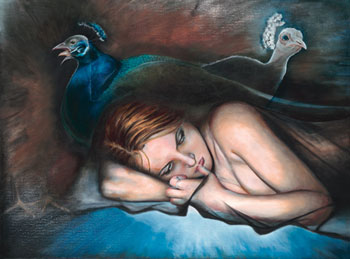 In the loft, guest artist Sarah Folkman unveils "Keep It Down". Her new collection of paintings continues with nature-inspired themes of birds, moths and fish, while her narratives explore a more personal path than before.
All three shows open tomorrow night, Saturday, July 25, and remain on view until August 11, 2009 at Corey Helford Gallery in Culver City.
Details at www.coreyhelfordgallery.com