Cut and Fade Out: Feature Profile on Miss Bugs
Juxtapoz // Monday, 19 Apr 2010
1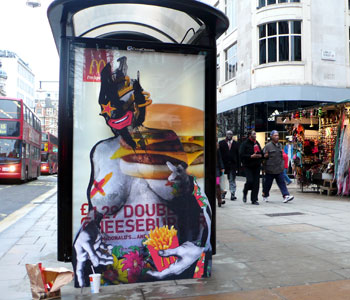 Cut and Fade Out: Feature profile on Miss Bugs
A wander past a billboard in East London sparks a double-take. Is it staring at me? Yes. Yes it is. It's a two dimensional image of a woman ghosting itself proud of a board advertising a tabloid newspaper.
A builder walks past a construction sign reading "Heavy Plant Crossing" with a figure steaming out in colours from its borders.
This is "Cut Out and Fade Out", the latest street offering from London's Miss Bugs, a collage-mad duet better known for their punked up superheroes and collector friendly screenprints.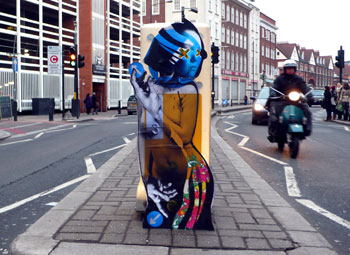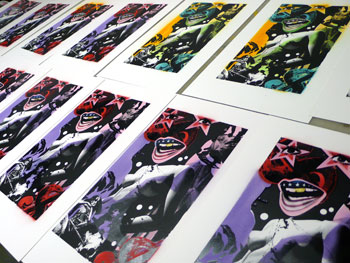 We had a chance to hook up with them in their studio. Away from their street environs the figures can be seen as a bright splash of collected images – uncontexualised and standalone.
"We got the idea of using the cut outs walking the streets photographing things," Bugs, the male half of Miss Bugs relays. "We were looking at the collage aspect of our work and thought about how we could use those elements in something more theatrical on the street. So we took the photographs and designed figures to weave in and out of them visually. Like Veruschka."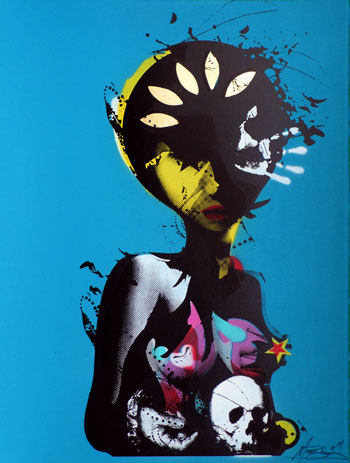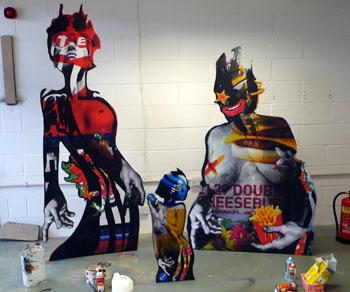 Veruschka was a 1960s model who was often painted to blend into the background of whatever she was standing in front of.
"We like the idea of going somewhere and leaving the work in an urban environment," Bugs says showing me clippings of Veruschka photographs in an old moleskine notebook. "It doesn't have to be totally camouflaged, because its nice to have play with reference points. When people walk past they double-take and say "ooh, that's nice."
"The work doesn't last long on the street. It's temporary. The light in London is quite good for installations like this because its quite grey and samey. We did a piece in the countryside in Hay which made the pieces stand out more as pieces instead of fading into the landscape."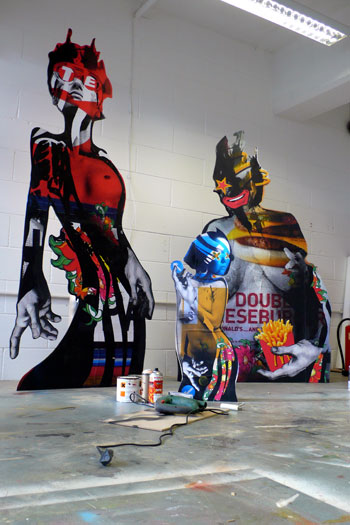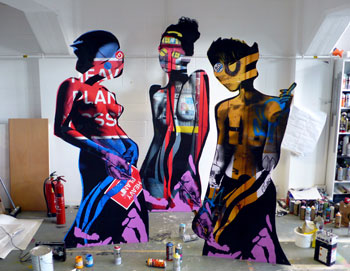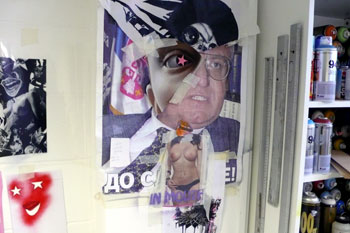 "We've done similar stuff in Wales where we're pasting them directly onto the background. They stand out less but we play around with what's already there so the image works in."
Bugs takes me to a work desk where he has a collage of fleshy feminine figures working their way through the graphic of a London Underground sign. As he speaks, his hands run through what will be their next piece.
"The figures start out in the collage process after we've taken photos, jotted down measurements. We throw bits up, take stuff out, turn them around. Then we scan it and add or take away more stuff like dot tone on the computer. Then we print it, lay it down on MDF with a sub-frame at the back. Then we haul it down to the location."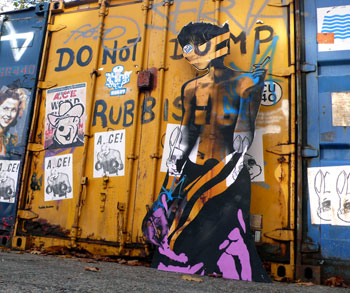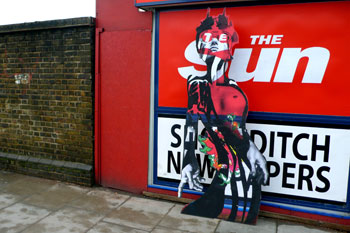 The pieces they set on the street are self-explanatory. They need no context beyond the visual hints they already adopt and adapt and would find no home in a gallery context.
"We'd like to go bigger, grander. We'd like to take it abroad and find different textures and surfaces to work with. Create a different feel. These are the lost memories that cities hold in their streets – you know how you can relate places to things that have happened? We see it as characters that fade out and fade away. Like urban ghosts.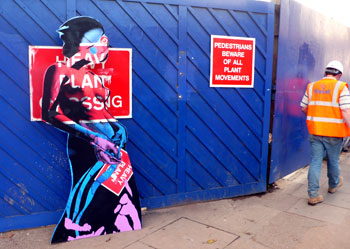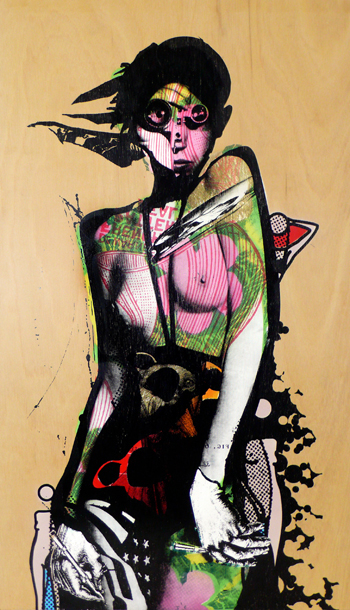 With this work, it's more to do with feelings, emotions and memories of a place. Going to a place and sensing the feeling of it. There's no political message. All street art is political but it's not our aim with this project. Unlike previous work, this is more of a selfish project. It's done for us."
Where the project starts and where it ends is ambiguous.
"In some ways, the photograph is the finished piece – where it all makes sense."
Words by : Leah Borromeo
Twitter: @monstris
Vimeo: vimeo.com/borromeo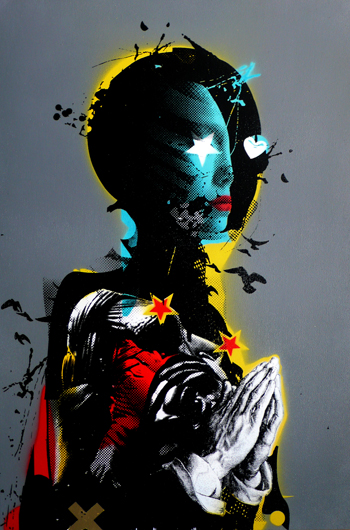 All photos courtesy of Miss Bugs.