Critiquing Fame with Joshua Petker: First News on His Fresh Series of Work
Juxtapoz // Thursday, 04 Mar 2010
1
"The show is an examination into how people use fashion and imagery to shape identity and reality for themselves and how seriously some people attempt to create an identity, meaning, and purpose for their lives before they die," Petker tells us.
"I do this by creating a repetition of images and motifs throughout the work that are in some ways the same, in other ways different, illustrating the casual, beautiful monotony of everyday life and the wonder and excitement in knowing life is a one-way road to an end."
Naturally, our initial thought was that this new show would be a kind of reaction to his recent dabble in the fashion world last year. Petker set the record straight in stating:
"No, my dabble into fashion was a part of the exploration actually. I used to desire fame too and I thought fashion would help. I thought fame was beauty and so it was a part of my goal. Whoops! Made a mistake!
"In reality, the fashion debacle illustrated how hollow the quest for fame is (when fame is your goal rather than being famous for something) and how desperate some of these people are to be seen.
"So, now I just want to paint about what I learned and forge ahead."
We couldn't agree more. Thanks for keeping it real, Josh. We cannot wait for more preview images of Between Butterflies, but in the meantime, take a peek at this sneak peek of a new painting: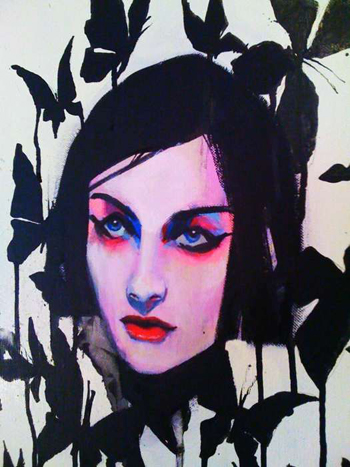 Petker's Between Butterflies opens April 17th, 2010 at Corey Helford Gallery.
More on Joshua Petker at www.joshuapetker.com