Creativity Meets Medicine: CT Scanner Designed by Jeff Koons
Juxtapoz // Wednesday, 28 Apr 2010
1
"Our ultimate goal is to transform these cold, sterile environments into happy escapes with the power of visual art, and we've made a difference in over a dozen health care facilities throughout the east coast," writes Nicki Eicher of RxArt.
RxArt plans to organize more exciting installations throughout NYC, the midwest and Los Angeles.
They also create limited edition artist coloring books entitled Between the Lines (Volumes 1 and 2). The renowned artists that they work with have created pages for these books, including Takashi Murakami (whose page is shown below).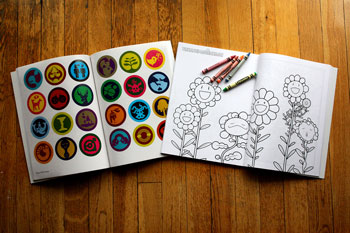 RxArt not only uses them as a fundraising tool, but they also give them to the children in the hospitals where works are installed. Volume 1 is and edition of 35,000 and is nearly sold out. Many adults consider them collector's items. Volume 2 is also popular, offering adults and children alike to appreciate the books for different reasons.
More info on RxArt at http://www.rxart.net
Coloring Books are available here.