Coop Comes to Corey Helford Gallery
Juxtapoz // Tuesday, 24 Mar 2009
1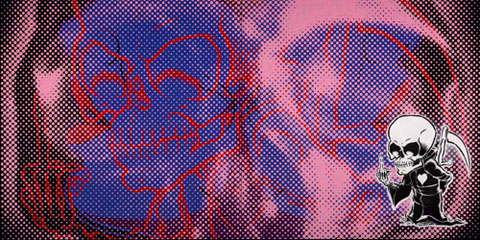 Corey Helford Gallery presents the highly-anticipated solo exhibition of new works by celebrated Pop-artist Coop. Since 2006, Los Angeles has been on the waiting list for Coop's next explosion of larger-than-life pop iconography, and his upcoming solo show of irreverent and outrageous fine art is sure to deliver.

Bold and brazen does not begin to describe the parade of leering devils, voluptuous vixens, and hell-bound hot rods that dominate his electric acrylic-on-canvas paintings. Considered one of the pioneers of the Contemporary New Fine Art movement, Coop steps out from his arsenal of sin to unveil the next phase in his evolving creations of neo-Pop imagery.
The reception for Coop is open to the public, and will take place on Friday, May 29 from 7 to 10pm. The show will be on view until June 20, 2009.
Born in Bixby, Oklahoma, Chris Cooper, AKA Coop, began his art career at the tender age of two, with crayons in hand. Shortly after the ink was dry on his high school diploma, he left his home state for Los Angeles where he landed his first solo exhibition in 1993 at La Luz de Jesus Gallery. Since then, Coop has been steadily taking over the art world, exhibition after exhibition, and his paintings have been showcased around the world.

Inspired by hot rodding, car culture, B-movie monsters, sexploitation flicks and the world of fetish, Coop parleyed his artistic talent into a merchandising empire, creating custom collections of fine art prints, rock and roll posters, artist-series apparel, lifestyle accessories, skateboards and toys. Coop released The Devil's Advocate, a full-color coffee table book, which was an immediate sellout and is currently in its fourth printing. Following the success of his first release, Coop's second book, The Big Fat One is a 1008-page sketchbook and was published in October, 2002.

Coop's commissioned work is equally as spectacular. He has produced over 100 posters, including rock posters for Nirvana, Soundgarden, The Sex Pistols and album cover art for notable bands such as Mono Men, Lords of Acid, Ramones and NOFX. Altoids commissioned him to create promotional artwork for its wildly successful cinnamon flavored mints, and MTV featured the artist's imagery on its The Return of Rock compilations. Coop's commercial talent extends to a multitude of creative projects, including a series of limited-edition gambling chips and a customized Escalade for the Hard Rock Casino in Las Vegas, as well as directing music videos and designing major ad campaigns for various clients.

Look out for an upcoming feature in Juxtapoz on this legend and make sure to check out his hotter than hell artwork on Friday, May 29 at Corey Helford Gallery. Details at www.coreyhelfordgallery.com


For more information about the artist Coop, please visit www.coopstuff.com