Coming this February 2011: All the Wrong Art—Juxtapoz Magazine on Film series at NY MoMA
Juxtapoz // Monday, 03 Jan 2011
1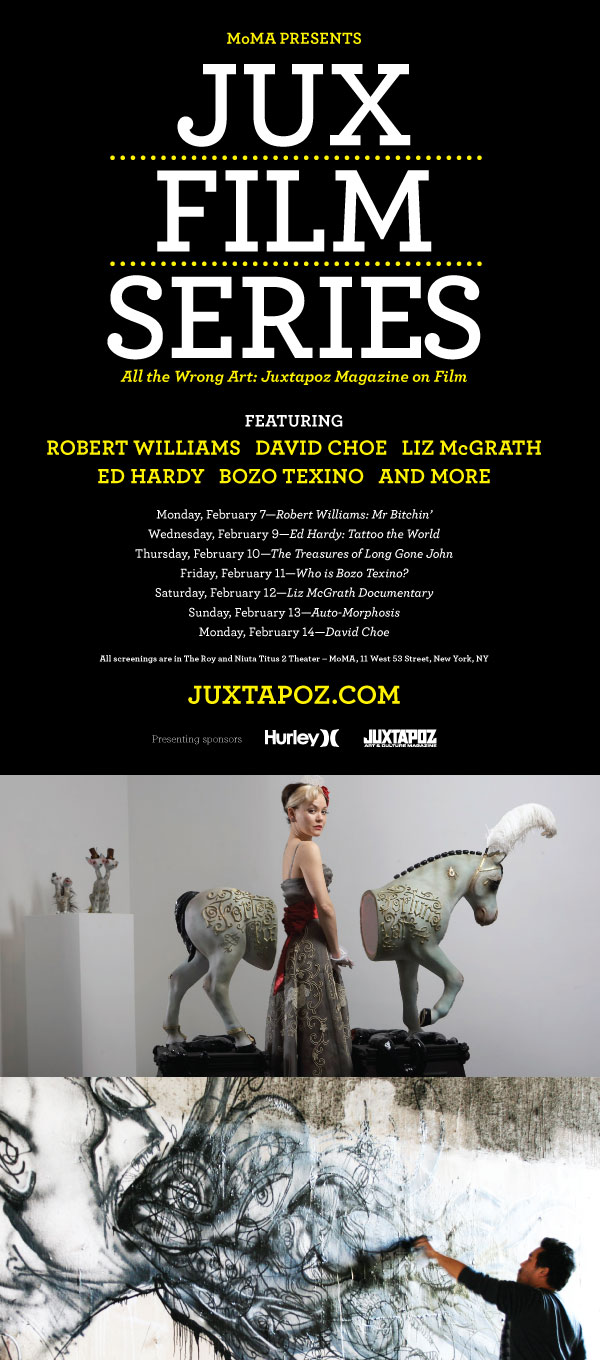 We are extremely pleased to announce our collaboration with the esteemed landmark instituition of the
MoMA
as they present
All the Wrong Art—Juxtapoz Magazine on Film
. The series, which starts at the Roy and Niuta Titus 2 Theater at MoMA on Monday, February 7, 2011, will feature films on Robert Williams, David Choe, Liz McGrath, Ed Hardy, Bozo Texino, and many more.
Here is what the MoMA writes about
All the Wrong Art
:
The San Francisco–based arts and culture journal Juxtapoz was founded in 1994 by painter Robert Williams as a response to the dominant critical aesthetic of the New York art scene, which he saw as favoring abstraction and Minimalism over representational forms of art. The magazine aligned itself with Surrealist traditions of figurative art, contemporary pop culture, and the "graphic tradition of EC comic books, psychedelic rock posters, sideshow freak banners, and Zap comics," giving voice to a generation of artists working in genres that were variously described as "Lowbrow" and "Pop Surrealist." This series includes seven documentary features about artists championed by the publication, along with in-person appearances by artists, filmmakers, and special guest speakers. Several of the films will be East Coast premieres.
There will be more details and updates throughout the first months of 2011, but we wanted to announce the series now to kick-off a very special series we are part of.
Thank you to Ron Ron Magliozzi, Assistant Curator, Department of Film at MoMA.