Comic Con 2009 with David Choe
Juxtapoz // Friday, 31 Jul 2009
1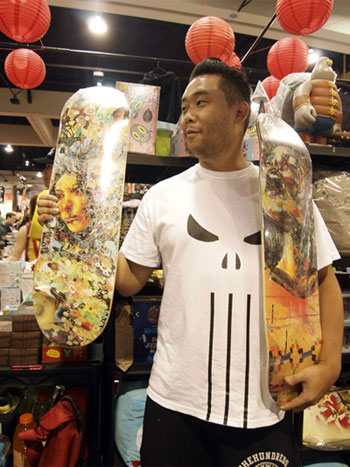 Here's to another year of Star Wars dress-up and comic book signings. Comic Con 2009 hosted up to 200,000 fans in San Diego's Gaslamp District this summer, at the city by the sea's massive Convention Center.

Just some of the stars on hand were Stan Lee, Robert Downey Jr, Murs, Jason Bateman, Joss Whedon, cast members from LOST, Heroes, and True Blood, Jimmy Fallon, Glen Danzig, Johnny Depp, and Mila Kunis. The "nerd fest" is all Hollywood now and Twilight fans may have actually outnumbered the Star Wars fans for once (assuming that they are not one in the same, and I feel pretty okay saying the original Star Wars fan base is not the Twilight type).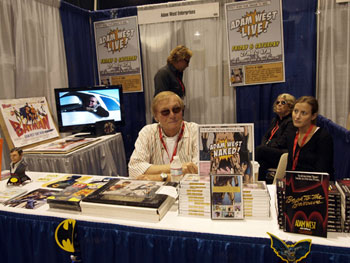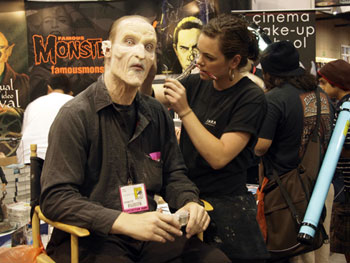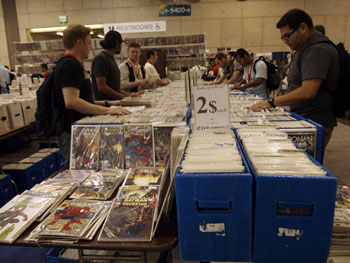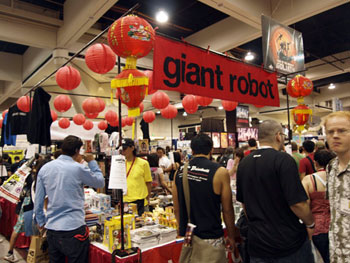 The convention features panels, and tons of exhibitor booths full of comics, toys, books, clothing, and original art. That last part is my favorite part. It used to be that the event was really a place for unknown artists to come and find publishers or meet other artists and create relationships that could boost their careers.

This year, the art was still there, but sadly, Hollywood has taken much of the spotlight. You can come to Comic Con, though, and still check out the flocks of artists selling their originals. Many stay and sit for hours signing and doing sketches for fans.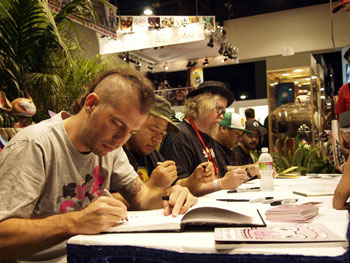 Artists present this year included Chet Zar, David Choe, Buff Monster, Travis Louie, Tara McPherson, Attaboy, Nathan Spoor, Luke Chueh, and a ton of others. It's a pretty cool experience because as a collector or a fan you have a chance to get a one on one moment with an artist and maybe buy their exclusive toy or book or print, and have them sign it.


David Choe told me he had people bearing their souls to him while he was at Giant Robot's booth signing skate decks that featured his artwork. Regardless, he spent time talking to fans and even took a second with me.

"I'm here at Comic Con signing shit and I'm not complaining, but everyone that comes asks something of you. I've seen other artists and they just sign and go, thank you, and that's it. Everyone else unburdens themselves to me. I should be grateful, but my fans and people that like my shit, they are like angry, and they are very nice. But if I draw someone something, and then it's not as good as the other guy, the other guy will come back and go, why do you draw this shit for him and not me? There was this very nice couple, this goofy white guy and his girlfriend who was very cute and Asian. He dressed up like a Streetfighter dude and she dressed up like Chun Li, and they were the last ones in line. She was like, sign this, sign this, and they were very nice, but I just wanted to get a sandwich and go home. I'm like, you're asking me all this shit – can I ask you something? He's like, yeah. I'm like, I want to see your girlfriend, I want to make a porno. Are you going to fuck her later wearing those costumes? He's like yeah, we already did. I'm like, that's cool. I'm like, your asking me all these questions; can't I ask you too? Is that a dick? I can't ask them that?" At this point, I am now laughing hard. David is a funny guy.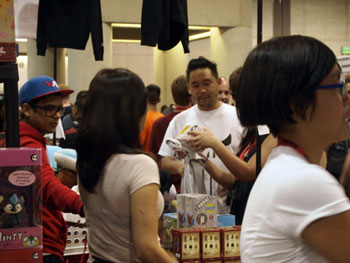 Trina Calderon: Why do you think your fans are like this?
David Choe: I think because I put all my shit out there. I don't really think about it, and then I think I attract a real strange person. I don't know, I love them, they are awesome people, but I hate them too, that's life, though.
I think most of life is very censored and very like, you gotta act appropriately. I could be wrong, but I feel like when they meet me, they're like here's a guy who does and says whatever he wants.


How did you start working with GR?
Right here, San Diego Comic Con, probably more than 10 yrs ago. I have gone to a comic book store every Wednesday since I was 15. So, Giant Robot was sold in the comic book store, and I was like oh fuck, cool Asian guys making a magazine that I actually like to read every page. I saw them here and I lost my mind, I was like, Hey! If you guys ever need any art – they didn't take me seriously. But, they asked me to draw an illustration for an article, and I drew it the next day. So, they are like, oh this kid is fucking serious. Pretty much since then I have been drawing, writing, making shit for them for over 10 years now, and it feeds into all the shit I'm saying too about about doing what I want. At this point I don't want to work or do anything with anybody I don't like. I mean ever, but you gotta suck some dick and kiss some ass to get a couple places, if you don't have to then God bless. At this point in my life, I just don't want to hang out or work with people or do projects that I don't want to do.
Stay tuned tomorrow for more on Comic Con when Trina talks with fine artist Travis Louie.