Cody Cochrane and the case of originality
Juxtapoz // Friday, 20 Aug 2010
1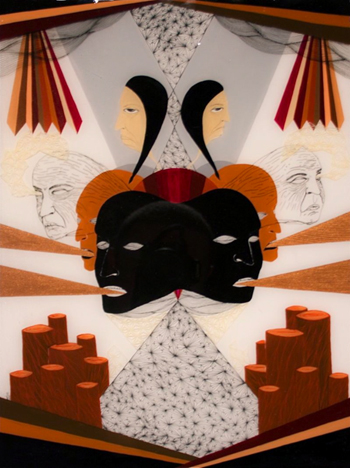 We were looking through emerging artist profiles last night and came across the work of
Cody Cochrane
, a painter and illustrator living and working in Toronto. Then we noticed a lot of folks out there comparing her work to that of
Richard Colman's
(who we have featured in our
new September 2010 edition
).
Cochrane went to went to OCAD (Ontario College of Art & Design) upon graduating from high school and admits she, "pretty much hated art school." She later lived in Glasgow, as part of the design duo Whitehaus, making awesome show posters. Though much of her subject matter appears stewed in meaning and symbolism, she states that her work is "meant to be tongue-in-cheek for the most part."
Of inspiration, the artist states, "The day-to-day stuff I see every day is what I thrive on. Being miserable inspires me too. When I'm bummed, that's when I really throw myself into painting. And I usually get some pretty cool imagery out of it too. But adversely, I also love humor and seeing the funny side to sad situations."
Last year, Cochrane came under some fairly intense heat regarding likenesses of newer works to that of Richard Colman, as well as Maya Hayuk. Bloggers criticized her, and readers followed suit in their comments. Clearly, there are references to their work, which brings up the ongoing question of influence and inspiration versus biting style and outright plagiarism.
In response to one critique, Cochrane wrote: "I think I'm fairly transparent about my influences, and I think Colman is rad. There are certainly some fairly obvious references within some of my stuff, and there are also many dissimilarities. I think this can be said about almost every artist I can think of, so I don't think that this is a unique quandary in any way.
"I'm primarily a selfish artist," she continues, "who doesn't take herself too seriously, and at the end of the day I do what I do for me, and I can't apologize for this. Historically, I think the issue of influence/appropriation will always be something challenging in art/music/literature, even in the most unique and creative people (Dzama vs. Darger, for example) and its totally valid to want to keep these people in check."
What do you think? Style biter, artistic experimentation, or unfortunate likeness? Either way, it's clear Cochrane has skill, and it will be interesting to sees how she "steps up her game" in future works.