Clare Rojas Solo in SF: We They, We They
Juxtapoz // Monday, 03 May 2010
1
All this new abstract work has yet to be seen by the public.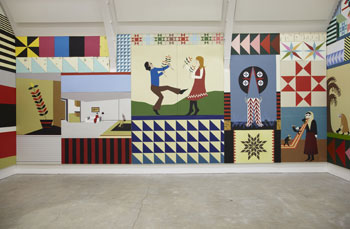 Clare Rojas (b. 1976, Ohio, lives and works in San Francisco) is best known for her folk-inspired practice that challenges the stereotypical representations of the sexes through a naïf homespun aesthetic using flat areas of color that reveal her origins as a print-maker. Rojas uses a wide range of media, including painting, installation and video, most often depicting interactions between men and women in fabled and mysterious landscapes.
"In a post-digitized world, people are searching for authenticity and connection," remarks curator Natasha Boas. "Although Clare Rojas' work speaks to the DIY attitudes and community spirit of the Mission School—arguably the most definable art movement to emerge in the Bay Area in the late 20th century-- the artist has distanced herself from the movement in creating a distinct and personal visual vocabulary, one that investigates the domestic realm through a delicate balance of abstraction and figuration. This is a seminal moment in the Rojas' career and we are thrilled to be bringing her work to the forefront. "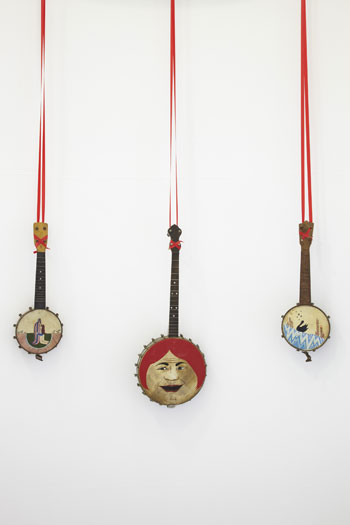 This exhibition will mark a shift in Clare Rojas' artistic focus from a preoccupation with the figure and gender politics to a broader range of formal association retaining the major proposition of her practice. Understood within the continuum of the history of folk art and in the context of a new urban folk tradition, Clare Rojas' exhibition will focus on a large "wall quilt" configured by individual paintings on wood panels.
A large installation will be built throughout the entirety of the MOCFA gallery space—the walls of the gallery covered floor to ceiling by a patchwork of painted panels, some focused on particular figurative imagery, others assemblages of color and pattern, combining to recall a myriad of reference points from high art and popular culture – from West Coast modernism, to Latino folk art, Quaker art, Native American craft, outsider art, folklore and the tradition of story-telling and illustration.
More information at www.mocfa.org
Opening Night: Thursday May 13, 7-9pm
Peggy Honeywell Performs, 7pm
On the night of her exhibition opening, Clare Rojas performs songs taken from her folk albums Green Mountain, Faint Humms, and Honey for Dinner released under the name of her alter-ego Peggy Honeywell.
Artist's Talk: Thursday May 20, 7p.m. Clare Rojas in conversation with curator Natasha Boas.
Docent Tours:
1pm: First Tuesday of every month; 2nd and 4th Saturday of every month.
The Museum of Craft and Folk Art is located at 51 Yerba Buena Lane, San Francisco, California. Museum hours are Monday through Friday 11am – 6pm (Closed Wednesdays). Admission is $5 for general public, $4 for seniors, (62 and over) and FREE for Museum of Craft and Folk Art Members, and on the first Tuesday of the month.
The Museum of Craft and Folk Art is wheelchair accessible. For more information call (415) 227-4888 or visit www.mocfa.org.