Chatting with Sarah Joncas: On Sultry-Eyed Women and Cinema
Juxtapoz // Friday, 27 Aug 2010
1
Tina Zeigler recently spoke with Sarah Joncas about her work and upcoming exhibit, Siren, at Thinkspace. Zeigler writes, "the most striking thing about Sarah Joncas' work is how immensely this artist has improved over the past three years; each painting demonstrates stronger technique and more diverse subjects, Joncas is scheduled for a solo exhibition entitled Siren at The Thinkspace Gallery in L.A on September 3rd."
Tina Zeigler: Can you explain why the name of your upcoming show is called "Siren"?
Sarah Joncas: Well, I've wanted to make a music themed body of work for awhile now, which may not be so surprising. The title felt suitable as this show is about the seduction and romance of music, as well as linking to my usual subject matter of dark, solitary women. I wasn't entirely certain that this would be my direction in the beginning, but after starting on a couple pieces – a dancer and a quiet geisha holding a guitar – everything else just flowed out naturally and without hesitation.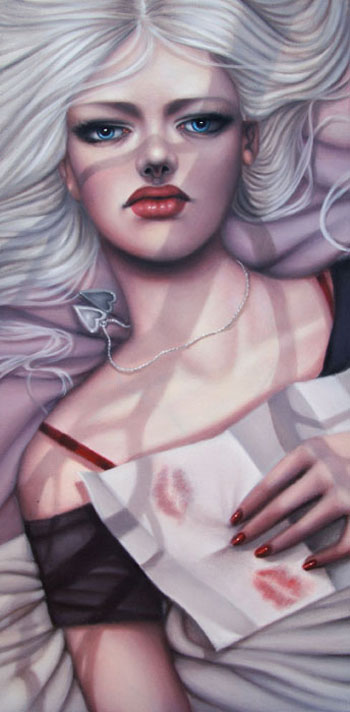 The women in your paintings often possess a sort of seductive, smoky-eyed facial expression that reminds me of old Hollywood actresses, do you ever have any actresses or films in mind, for example whilst working on the piece, "western eyes and serpents breath"?
Cinema has been a large influence on my paintings, more specifically noir. I've never painted with a celebrity in mind though. I just love the drama and mystery of film and how they use lighting and shadow to create mood. I also enjoy that my girls can be confused as actresses, playing a role – it gives them that power of voyeuristic knowledge, like they know their being watched. At the same time, they look as though they're ignorant and unaware, caught up in their own world. It's an interesting tug-o-war!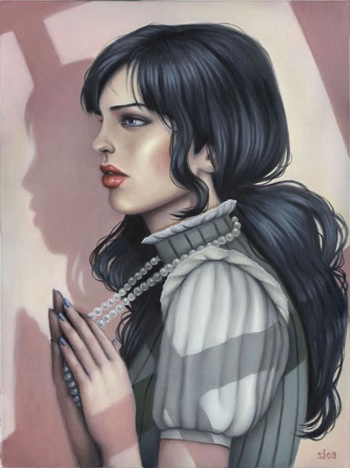 Who would you like to collaborate with, do your have any such plans for the future?
I haven't really thought about that one, to be honest. I'd want it to be someone I got to know well enough to feel comfortable painting alongside though, and someone whose work I enjoyed. No plans for one yet!
Seeing as women are the dominant subject matter in your work, who, as you've said, "mature with you", how do you see the subject matter of your work evolving, would you ever move on from women?
I don't know! That's the beauty of it though, you just keep painting and they keep changing. I may get tired of the girls once I'm older, and I may not. I do know that whenever I paint on paper, the works are completely different though – I seem to turn in a more Ralph Steadman kind of way…. But, we'll see!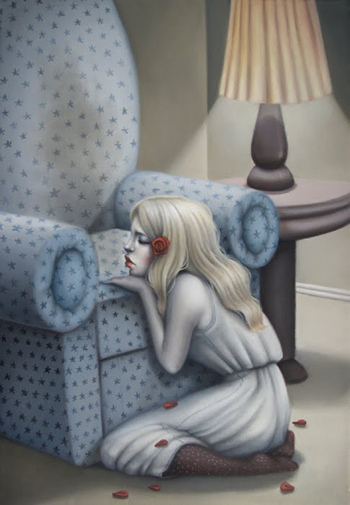 Can you explain the relationship between the women and their environments in your paintings, for example in your piece, "Lingering"?  [pictured above]

The environments are just meant to compliment the emotions and atmosphere of the women in my paintings, as well as give more understanding to why she's feeling that way. If they seem sad or lonely, the room encasing them might be bland or alienating. In 'Lingering', this is what I was going for - the generic-ness of the room, geometric and 'empty', the solitary light beaming downward…
The full length interview between Tine Zeigler and Sarah Joncas can be viewed at Hunt & Gather.
Siren by Sarah Joncas
Thinkspace Gallery in LA
Opens September 3rd, 2010