Celebrating Five Years with Jonathan LeVine Gallery
Juxtapoz // Monday, 22 Feb 2010
1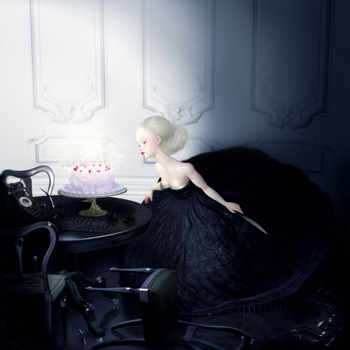 New York City's Jonathan LeVine Gallery will celebrate five years of existence and awesomeness with a commemorative group exhibition featuring all new works by forty artists who are either currently represented by the gallery or who have exhibited at the gallery in the past five years.
The Five Year Anniversary Group Exhibition will be on view from February 27—March 27, 2010, and there will be an opening reception on Saturday, February 27, from 7—9pm.
Since 2005, Jonathan LeVine Gallery has been an important venue for Street Art (ephemeral work placed in public urban environments) and Pop Surrealism (work influenced by illustration, comic book art, and pop culture imagery). As such, the pieces in this exhibition—comprised of paintings, drawings, and sculptures—will be primarily figurative with a strong sense of narration.
Artists in this exhibition have developed prominent creative voices for themselves as individuals, while also playing valuable roles within the historical context of the larger Street Art and/or Pop Surrealism movements. All of them have been influential in shaping the gallery's program, creating work with a unique counter-culture point of view.
In LeVine's words: "I believe that my program represents a generational shift, and that the artists who I work with will continue to define the evolution of this genre."
Artists in the exhibition include: Adam Wallacavage, AJ Fosik, Andrew Brandou, Andy Kehoe, Blek le Rat, Chris Mars, Dan Witz, Date Farmers, Dave Cooper, Doze Green, Eric White, Erik Mark Sandberg, Esao Andrews, Gary Baseman, Gary Taxali, Invader, Isabel Samaras, James Jean, Jeff Soto,?Jim Houser, Josh Agle (Shag), Kathy Staico Schorr, Mark Dean Veca, MARS-1, Miss Van, Natalia Fabia, Nouar, Plankton, Ray Caesar, Ron English, Scott Musgrove, Shepard Fairey, Souther Salazar, Stephan Doitschinoff (Calma), Tara McPherson, Titi Freak, WK, and Xiaoqing Ding.
Jonathan LeVine Gallery
Five Year Anniversary Group Exhibition
Featuring work by 40 Artists
February 27th—March 27th, 2010
Opening Reception: Saturday, February 27th, 7pm—9pm
More info at www.jonathanlevinegallery.com