Catching up with Paul Insect
Juxtapoz // Friday, 31 Jul 2009
1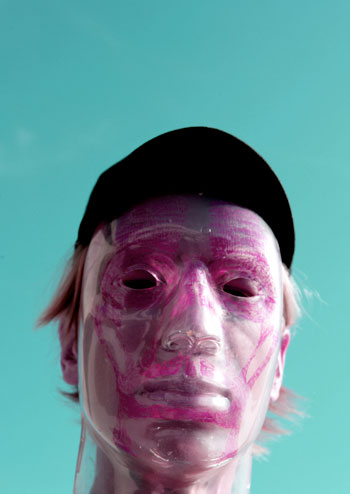 Catching up with Paul Insect
by Chris Osburn
Interviewing Paul Insect is a frustrating affair. Don't get me wrong – he's a natural storyteller and as affable as anybody I'd be apt to sit down with for a bit of conversation over a pint or two at the pub. But, the problem is that so much of what he has been up to and wants to share is "off the record". Yes, the man lives a fascinating life, but those familiar with his provocative art are only exposed to the tip of the Insect iceberg. Still, what a tip! As for all the "off the record" stuff, well, suffice it to say that Mr Insect hasn't been sitting on his laurels.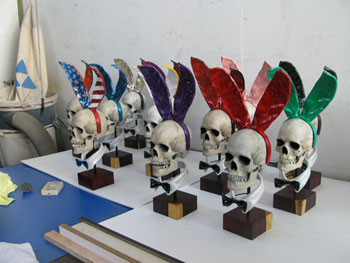 Over the past year or so, Paul has spent a significant amount of time on the road. When I met up with him at a pub off Old Street in London's East End, he seemed most keen to talk about his visit to Mexico City where he was captivated by the blatant divide between "ultimate rich" and total poverty: "The visual sight of children sitting in the gutter next to a neon lit Hummer garage, bustling with suited gentlemen and a young blonde on each arm." He was also struck by the art he saw while there, both on the street and Mexico's historic past ("some pieces of Aztec and Mayan art reminded me of the artist Barry McGee") and believed that soon we would see the "rise of Mexican artists."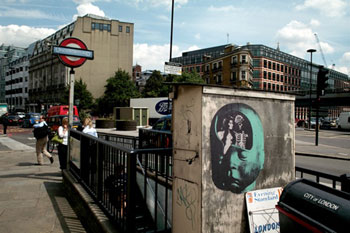 Not just Mexico, Paul hung for awhile in LA where he worked on pieces for last year's Poison exhibition held in a former Turkish bathhouse/sex shop in Kingscross London. Far from his first time in LA, it's a city that he had grown to love. "You have to do everything in a car there, which I hate, and I would try to walk everywhere. As a pedestrian, I'd get looks from people as if they wanted to spit on me. I first hated LA but now love it … The whole scene out there is fun – it's even more fun to take the piss out of it."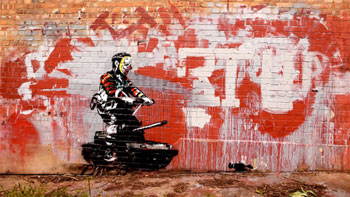 When not on the road, Paul had been working closely with independent artist facility Pictures on Walls, which he's been part of since its inception. Recently, POW has been in the midst of a move to a shop front on Commercial Street in London. Paul is glad that POW now has a proper space to exhibit its affordable and fresh art. Much of what POW makes available are silk screen prints; the move to Commercial Street would enable folks interested in purchasing these prints an opportunity to see more than just a jpeg before purchase. Paul mentioned the importance of experiencing the scale of a piece of work, and being able to see, for example, the techniques used to make each print.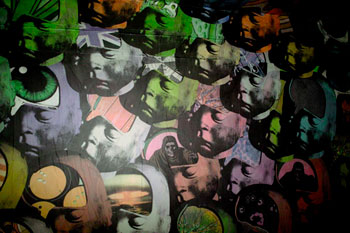 Despite the fact that Paul swore off commercial work about four years ago, none of what's written above is meant to suggest that Paul has been taking a break from making art. His baby head paste-ups have appeared on walls throughout London over the past several months. These gigantic images of a baby doll's head cracked open with different patterns inside the baby's hollow head were a "surreal take on the information we feed children." When he came up with the image, Paul had been thinking a lot about "children, family life, TV, computer games" and his worries that "children are vulnerable and impressionable and can be changed so quickly by one image." As evidence he recalled the time he saw "Faces of Death" as a 17 year old and wondered if the gory footage of that film influenced the graphic nature of his art. He also wondered what's to become of the boy who lives near him and who "for the past five or six months has been sitting on the couch playing computer games every time I've walked by his window."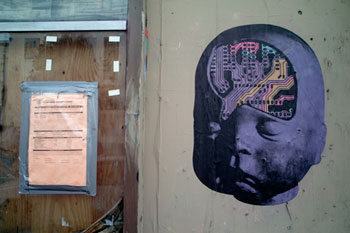 Paul spoke with his disdain toward the likes of computer games and social media sites. He wondered aloud what was the point of all this "extra-information" as well as what did people do before the internet. I think he's simply too busy with his art to participate and saw no appeal in giving up his real life activities to sit staring at screens any more than he already has too. No. Paul's real passions are still on the streets where the inspiration for his art – and indeed often much of his art – can still be found.

www.paulinsect.com

www.lazinc.com