Catching Up with Augor
Juxtapoz // Friday, 22 Jan 2010
1


"Augor has been one of the biggest names to emerge from the MSK crew in Los Angeles over the past 5 years," writes The Citrus Report. "Upper Playground noticed. Juxtapoz noticed. People driving in West LA noticed when they saw the now infamous billboard of The Dark Night converted into an Augor signature.

"His graffiti has always looked a little different, almost the perfect hybrid of character, graffiti, fine art, and humor. All of this means Augor is getting bigger and bigger, better and better and more conceptual as the graffiti has turned into conceptual gallery work.

"We spoke to Augor a few months ago, right before his new Upper Playground graphics hit the stores, and his FIFTY24LA Gallery show was closing up."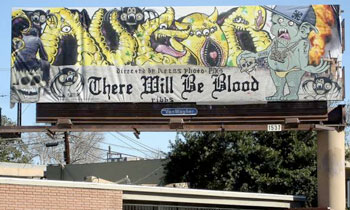 You are an extremely active graffiti writer in Los Angeles. What is the atmosphere like down there these days? Who is getting up, who is making waves, in your opinion?

Los Angeles has always been the area where shit cracks. We do more, shine harder, and floss harder in every form of our lifestyle. It's the city where stars are made so naturally being a graffiti writer in this town you adorn that same attitude of "making it." MSK which is the crew that I represent has always had a choke-hold on the city and doesn't seem like were going to be letting go anytime soon. If I had to name anyone besides us, I'd say my friend TANK, APEAR, and DR.SEX.

You are making a transition to gallery work, especially with the elaborate show at FIFTY24LA Gallery. The funny thing is, your work on the street was so elaborate and unique that it was hard not to consider it fine art. How is the approach different?

I'm approaching a larger audience. One that hasn't seen me grow from a toy into whatever people consider is so great about me now. I'm not approaching the transition like "Okay, I have to bring my street shit into a gallery and try to fit my name on a square canvas." I take it as a chance to re-create my vision in a new way that fits the space. I don't want kids to think I'm changing up what I stood for. Some might not like the shift, but I think its good to play 2 fields at once. It's kinda like a kid who has a loving family that trusts and adores him then he grows up and moves out. The outside world doesn't know shit about you and its up to you to prove that all the positive shit your mom said about you was true.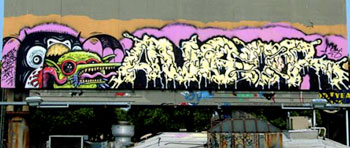 Have you always wanted to be in a gallery?

I really just wanted whatever I put out to be " felt" by everyone. Not in the sense of fame, but understanding. People can read a name five, six times a day on the freeway and not know if what it means. The goal was never, "I gotta make it to a gallery to be legit." But it's a bigger ocean that I can have a presence in. Right now I'm trying to flood as many outlets as a can with AUGOR. The more it is out there, the more people are forced to take notice of what ever I want to communicate, wherever I want to put it.

With your style, what do you think you can bring to the gallery setting that other graffiti writers before you who have made this transition have not been able to do yet?

I'm not relying on my style to separate me into a different category than other graff artists. To the outside world most graffiti artist's work appear pretty relative to one another. The thing that can separate one from another is vision. I don't follow a rule, guideline, or path. I do what I don't know how to do. That way I get to do it. So with all these new outlets of my art it's like I'm pitching blind... but so far I'm striking muthafuckas out...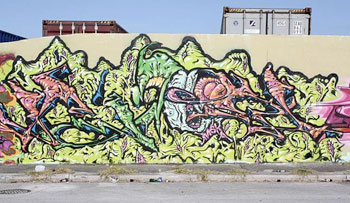 And vice versa, what are you taking from the gallery and bringing back out into your graffiti?

It makes me reflect more about what it means. I talk with a lot of art school kids and studio artists and they seem to plan a lot more and take more pre-production steps. I started getting more developed and methodical with my plans for street painting after being around that crowd. It showed me to take more time thinking about how the location would look as a piece itself, not just how my piece would turn out.


Make sure to read the rest of this interview online at thecitrusreport.com